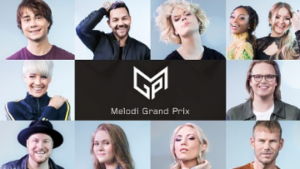 With three (or five if you count the songwriters as well) former participants, Norway is ready for one heck of a national final on Saturday the 10th of March. Get to know the 10 acts for the Melodi Grand Prix 2018 final in this portrait.
Can anyone beat a national final line-up like the Norwegian one this year? Maybe, but it will be tough. Here we take a closer look at the 10 acts that will compete to represent Norway at this year's Eurovision Song Contest.
The Norwegian Melodi Grand Prix final will be held Saturday the 10th of March live from Oslo. At the very same time, Sweden will also have reach the final in their Melodifestivalen selection.
Charla K – Stop The Music
Behind the artist name Chara K, we find 29 year old Charlotte Kjær. She is no stranger to music competitions and Melodi Grand Prix. As a part of the duo Shackles, she came second in the talent show X-Factor. Five years ago, the duo took part in the Norwegian competition, where they were eliminated in a preliminary heat. She currently lives in Stockholm, Sweden where she has a record deal with Per Gessle's record company Space Station 12.
Charla K has been a part of writing her song together with Alex Shield and Per Gessle. The latter doesn't need much introduction to music lovers as he is one half of the Swedish super duo Roxette with international big hits like The Look and It Must Have Been Love. Before Roxette, he was front man in the popular Swedish band Gyllene Tider which in particular had a hit with Sommartider from 1982.
Alejandro Fuentes: Tengo Otra
30 year old Alejandro has, as the name suggests, latin roots, in his case they are from Chile. He finished 3rd in the talent show Idol in 2005, which he used to release his first album that ended up selling to gold status. As part of De nye Gitarkameratene from 2006, another successful album was released before he went back to solo projects. Three years ago, he was judge in Idol Junior so he also knows what it is like to be on the other side in a competition.
Just like Charla K, Alejandro has also helped out himself with his song. Tengo Otra will be performed in Spanish, and is co-written together with Angel Arce Pututi and Alejandro Pututi.
Aleksander Walmann – Talk To The Hand
If you watched last year's Eurovision Song Contest, Aleksander will be a familiar face to you. He was the voice on his and JOWST's Grab The Moment, which came in 10th in the final in Kyiv, Ukraine. He is 32 years old and got his break-through in 2012 coming second in the Talent show The Voice. It is not only within music, he is use to competitions, as from the age of 13 and until music grabbed him, he was an active snowboarder competing on international level.
Just like last year, Aleksander Walmann is once again tearmed with JOWST. Joakim With Steen aka JOWST wrote the song Talk To The Hand together with Jonas McDonnell and Magnus Klausen.
Stella & Alexandra – You Got Me
There is 10 years between them, and their roads didn't cross before they were matched for this song, by broadcaster NRK. Both however knows what it is like to take part in a competition like the this, although on each their level. Stella with the last name Mwangi is no stranger to Eurovision fans as she represented Norway in 2011 with the song Haba Haba.
She has been matched with 21 year old Alexandra Rotan who has taken part in the Norwegian MGP junior show. Lately she has been touring as lead vocalist for producer Alan Walker.
Stella has been involved in writing the song together with Gustav Eurén, Niclas Arn and Andreas Alfredsson.
Vidar Villa – Moren Din
8 songs in English, one in Spanish and one in Norwegian, that's what you find in this national final – and the single one sung in Norwegian is titled Moren Din, which translates to Your mother. It is the story about two friends where one falls in love in the other's mum! It is written by Vidar André Mohaugen, Jonas Thomassen and Martin Thomassen.
Vidar Villa is 26 years old, and not unknown to the Norwegian population as his smash hit One Night Stand from last summer reached 4 times platinum, and in 2017 his songs were streamed more than 27 million times.
Tom Hugo – I Like I Like I Like
38 year old Tom Hugo is no stranger to Melodi Grand Prix as he also took part in 2013, being eliminated in a preliminary heat. He released his debut single (Open Up Your Eyes) in 2011, and his first album, titled Sundry Tales, in 2012. Tom spends a lot of his time abroad writing music for other artists as well, in particular in Germany, China and Japan. The latest one being Y'akoto's All I Want.
Different to 2013, Tom Hugo now competes with a song in English. Just as back then, he has written the song entirely himself.
Ida Maria – Scandilove
Another singer-songwriter to write the song herself is 33 year old Ida Maria. She also took part in the Norwegian final last year, but as songwriter. Ida herself is quite use to being on a stage though as she is an established artist within the Norwegian punk and rock music. Her debut album Fortress Round My Heart was released in 2008, in Norway and the UK. For that album, she won the Norwegian award as 'Newcomer of the Year'. Several of Ida Maria's songs has also been used in Finnish, American and British TV series and films such as Grey's Anatomy, Skins, Gossip Girl and Scream 4.
Ida Maria wrote her entry Scandilove together with Stefan Törnby.
Rebecca – Who We Are
She is the youngest participant in this year's Norwegian final. Rebecca is just 19 years old, and just finished school. She plan to study music in England, but first up is Melodi Grand Prix, and maybe the Eurovision Song Contest. It is not her first time on a stage though as Rebecca has performed in Nashville, USA, and also at a concert in relation to the World Cup in Biathlon in Oslo.
Should Rebecca get too nervous, her songwriter Kjetil Mørland can probably help her through it. He represented Norway a the Eurovision Song Contest in 2015 with the song A Monster Like Me. Together with Debrah Scarlett, he finished 8th in Vienna, Austria.
Nicoline – Light Me Up
28 year old singer and dancer Nicoline Berg Kaasin is no stranger to Eurovision. She was a backing singer for Margaret Berger in 2013 and for Agnete in 2016. She however has been singing solo as well, reaching the final in the talent show The Voice in 2015, and releasing her first single No Suitcase the following year. Since then she also released Real Life and Znap.
Nicoline's entry Light Me Up is written partly by herself, together with Johan Larsson and Emilie Adams.
Alexander Rybak – That's How You Write A Song
Most attention will be on the now 31 year old Alexander Rybak in this final. He won the Norwegian final in 2009, and since also the Eurovision Song Contest with the song Fairytale, back then breaking the point record. His following album was released in 25 countries. He has since been an established name, having released several singles and albums, been performing all around the world and won many awards.
Rybak hasn't forgotten Eurovision either. He has written songs to artists in national selections in Norway, Malta and Belarus, and has also been a guest act in several shows. This is however the first time, since his 2009 victory that he will take part himself.
Alexander, who is born in Belarus, but moved to Norway at the age of six, has written his song himself.
One of these 10 acts will win the Norwegian Melodi Grand Prix, and thus represent Norway at the 2018 Eurovision Song Contest in Lisbon, Portugal in May. Norway has finished in top 10 four out of the last five years, so pressure is high on whoever wins.