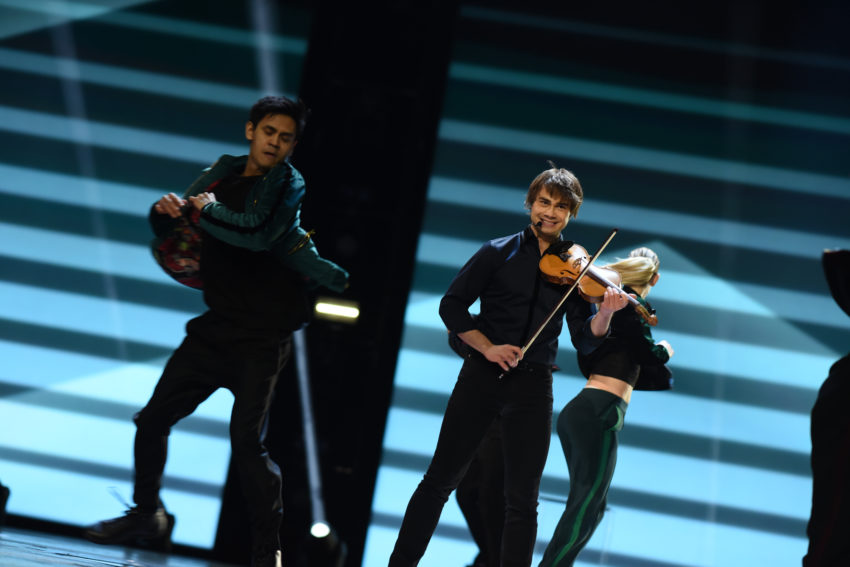 Is this how you write a winning song for Eurovision? That we'll see in May, but for Alexander Rybak it was the the recipe to win a tough national selection in Norway. The 2009 Eurovision winner will as such represent Norway in Lisbon in May.

It was back in January that Norwegian broadcaster NRK presented its national finalists for the 2018 selection of Melodi Grand Prix. With five former Eurovision participants, and one of them even legendary winner Alexander Rybak, they gave all of us followers, a treat to look forward to.
Today, the evening had finally arrived where these well-known names would battle against other established names as well as new comers. On stake was the honour of representing Norway at the 2018 Eurovision Song Contest to be held in Lisbon, Portugal in May.
Where most other shows, starts at a nice round time like 20:00 or 21:00, the Norwegian national final started at 19:55. Hosts were Kåre Magnus Bergh and Silya Nymoen. Kåre is partly Danish, so naturally he had to switch to Danish to talk to the Danish jury member, not that it would be needed as the two languages are so similar. Kåre and Silya also hosted the finals in 2015 and 2016. Tonight, they kicked off the show with a fun medley of former Melodi Grand Prix entries ending in a big bang with fireworks on My Heart Is Yours from 2010.
As interval act tonight, Norway treated us with For Vår Jord, the Norwegian 1988 entry. This time Karoline Krüger was joined by Anita Skorgan who some might remember from Eurovision 1977, 1979 and 1982. Performing again was also last year's Norwegian entry JOWST feat. Aleksander Walmann with the entry Grab The Moment. He was busy tonight, Mr. Walmann.
Let's take a look at what went on in tonight's Norwegian final:
The songs
You can read about the participants, the songwriters and their careers up until now in our Get To Know article.
Stella (Mwangi) & Alexandra – You Got Me
A good party of course starts with an up-tempo song which makes people want to get up and dance. That's what is delivered from Stella and Alexandra. Stella, as the oldest with more experience (You might remember her from Eurovision 2011) would be the natural leader of the two, but they share the stage well. Both are dressed in body stockings providing some eye candy for the male viewers. To please the female viewers as well, they had male dancers, all dressed in suits, to back them up. A good start that ends with confetti.
Aleksander Walmann – Talk To The Hand
We continue with another former Eurovision participant, but this time you don't need to think further back than last year. Aleksander delivers a catchy song very easy to sing a long to – and you want to do just that. As always, his vocals were good, although drowning a bit with the band and the backing singers behind him. He is charming, and has that look in the eyes which can melt many hearts, but a pink jacket, Mr. Walmann? He ends the performance with a hand in front of his face to stop, but this is not the end for him.
Should Aleksander Walmann win tonight, he has promised to bring Alexander Rybak with him on stage in Lisbon.
Ida Maria – Scandilove
Do you want to learn how to make love like a Scandinavian? Ida Marie gives you the recipe, but as she says, it is 'all night long'. If you expected her in a bed on stage, you will however be disappointed. Instead she brought cheerleaders and acrobats with her – and beach balls all over the arena. A catchy song, easy to remember, no matter what you think of it, but there is too much going on and poor Ida Maria totally drowns in this. Her polka dot suit doesn't make it any better. Is this how you make love in Scandinavia nowadays? I didn't get that memo, but I don't mind. Ida Maria has never been afraid of stepping out of the box, and do things her own ways, and that she certainly shows here.
Nicoline – Light Me Up
We continue with another up-tempo song. Isn't it soon time to relax with a nice slow ballad? Nicoline give us a rhythmic pop song of the kind, which you either really like, or find annoying. She is dressed in white with blue, red and orange stripes and so are her four female dancers. The performance starts out with all focus on her sitting alone on a chair. Soon more lights are turned on, and you see the dancers. It's a very rehearsed performance with a fixed dance routine. It ends with the dancers leaving the stage, and she is all alone again on the chair in the middle.
Tom Hugo – I like I Like I Like
Another up-tempo song, who would have thought? Tom Hugo likes when you move your body, and dance next to him, and it is indeed hard to sit still to this one. It's quite catchy, and easy to sing a long to. He is good looking dressed in a suit, which isn't too tight as he needs to dance. He has four male dancers with him dressed in similar jackets, and white trousers, and then, hang on, a group of other dancers joins, looking like the audience just jumped on… a nice idea, but a Super Man shirt takes too much focus. A big disco ball hangs down over the stage and the background shows lips ready for kissing. Perhaps describing this as a gay disco performance isn't totally off, but damn, women lost out of something when he came of the closet.
Charla K – Stop The Music
Now finally a song where you can sit down and relax your legs. With Roxette's Per Gessle as songwriter, naturally it is easy to have high expectations to this song, and in the presentation, Charla also revealed herself as a Roxette fan, and her being star struck meeting him. The song has something dark and mysterious about it, yet a powerful chorus which captures you. Charla is dressed in a short blue glittering dress, and is joined on stage by a big choir. The audience gives further atmosphere by turning the flash lights in their phones on. Don't stop the music just yet, please.
Alejandro Fuentes – Tengo Otra
Anyone up for a tango? We continue with some latin sounds. For non Spanish speakers, it is hard to sing a long to, and somehow it doesn't quite capture the viewers, although he appears to have good connection to the audience in the arena. He is casually dressed in black training trousers and a lose red jacket. He starts out sitting on a chair at the back of the stage, but gets up moving around, and like a super star he gets down on the knees singing to some of the girls in first row. Confetti is added to the end of this performance.
Vidar Villa – Moren Din
In Denmark, the national selection is also called Melodi Grand Prix, and in this year's national final, they had one song in their native language – performed as number nine. Interesting, that is the same in Norway, one song in Norwegian, and it is on as number nine! But let's focus on Moren Din (Your mother); how do you, as a young man, tell your best friend that you are in love with his 55 year old mum? And is he really your friend, if he doesn't understand that you want to have a child with her? It's a really catchy song, which keeps your attention, but some will find it hard to sing a long to those lyrics as what if someone heard you? It's really fun and enjoyable, and if you understand Norwegian, a smile will be on your face all through the song. The international jury might be lost, but this is simply great. Thank you, Norway for providing this!
Rebecca – Who We Are
The clear bookmaker favourite to win tonight is Rebecca. This ballad, yeah we finally had one, builds up nicely and provides an extremely powerful chorus, which near the end even gets magical. It's not easy to sing a long to, but it is very easy to like. Rebecca is dressed in a long black dress and delivers a very emotional performance. I would like to say that this is the safe bet, the one that will guarantee Norway another top result at the Eurovision Song Contest, but something makes me think of Agnete's Icebreaker from 2016, which didn't make it to the final. Could Rebecca risk the same faith? A very strong song, which she totally nailed on stage though. Prepare to see international bookmakers and fans predict a top result for Norway, the moment it is clear that she wins tonight.
Alexander Rybak – That's How You Write A Song
Just as most probably could predict, we end with Alexander Rybak. It's not easy follow right after Rebecca, but Alexander can do so. As former winner of the Eurovision Song Contest, he is naturally the one most attention is on in this year's national selection. Those who expect another smash hit like Fairytale to come and swipe all competition away, and make Norway the one to beat in Lisbon, will be disappointed though. He is charming, no doubt, and the song is catchy. The performance with instruments drawn (did anyone say Måns Zelmerlöw?), four dancers and of course – his violin – is good. This is not how you write a winning song for Eurovision, but you can never rule a guy like Rybak out. He delivers a strong performance, and we end this selection in a great way.
Three rounds of voting
Four acts made it to the second round, a Super Final as some will call it. They were decided by a 50/50 split between televoting and an international jury consisting of ten countries. They selected the following four acts:
Rebecca
Stella & Alexandra
Aleksander Walmann
Alexander Rybak
After that, all votes were thrown away, and so was the jury. The second round of voting was only for voting via SMS, and all four songs started from scratch. Instead of picking a winner now, like in most other countries with a Super Final, Norway has added one extra step: The Gold Duel.
Competing in this very last phase were Rebecca and Alexander Rybak. Voting lines opened again, but the acts kept their votes from the Super Final. Now there was just the possibility of giving them one last push to make them the overall winner.
In the video below, you can listen to this year's Norwegian entry:
Poll
Did Norway pick the right song? Tell us who was your favourite in the poll below:
Norway at the Eurovision Song Contest
With three Eurovision victories, Norway is on track with fellow Scandinavian neighbour Denmark, although both countries are three behind Sweden. Norway first won in 1985, the year after Sweden's second win. Bobbysocks' La Det Swinge has since become a classic hit, which most fans can sing a long to. Ten years later, Secret Garden gave Norway their second win with the song Nocturne, which only contained 24 words, and the rest was instrumental, mainly violin. In 2009, Norway would once again bring the violin to Eurovision – and win.
Since the last Norwegian victory, by Alexander Rybak in 2009, Norway have scored rather decent in Eurovision. Stella Mwangi (2011) and Agnete (2016) both failed to reach the final, but of the remaining six entries that did make it, four of them ended in top 10.
In the video below take a look at last year's Norwegian entry JOWST feat. Aleksander Walmann performing Grab The Moment, which came 10th in the final.