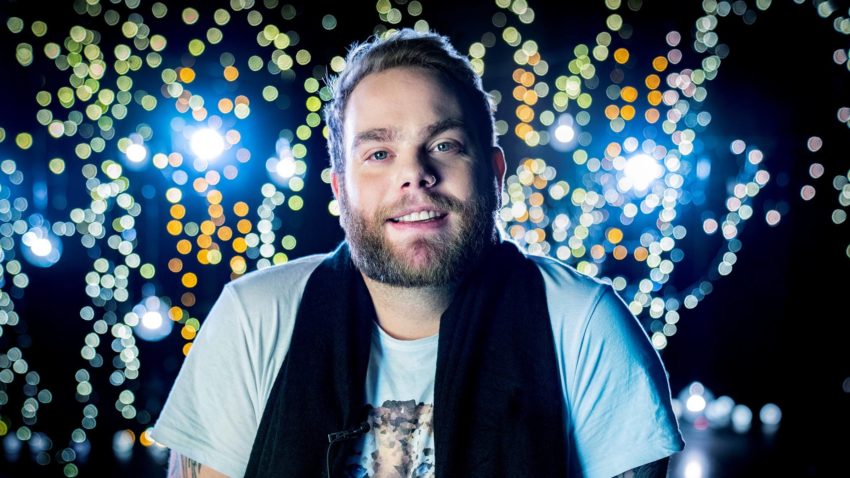 In a tough heat, Magnus Bokn just knocked out three other competitors and secured a place in this year's Norwegian national final. In just two weeks, the country will choose their Eurovision 2020 participant.
To celebrate the 60th anniversary since Norway's Eurovision debut, this year's Melodi Grand Prix is a special edition with five regional heats prior to the big final on the 15th of February.
Duel 1
Magnus Bokn – Over The Sea
Alexander Rybak and Jowst. The two songwriters Magnus joined forces with need no introduction to Eurovision fans and do almost guarantee a certain quality. You hear that quality right from the beginning. It's beautiful – then comes a medium chorus where you are wondering if it will raise or just stay down. Near the end, it delivers a bit – but far too little and too late. I am left with an impression of a song with potential to be really good, but somehow it's unfinished. What a shame. I would like to lock the three of them away in a cabin far up in the moutains with just one task: finish the song! If they did that, Norway could have a fantastic entry in this on their hands for Rotterdam as the potential here is great.
VS
Oda Loves You – Love Who We Love
Behind the artist name Oda Loves You we find 31 year old Oda Evjen Gjøvåg. Even me, as a Dane who understands a great deal of Norwegian, will struggle to pronounce that last name. The message of the song however, that we can all relate to. Everyone should be free to love whoever they love. For most of us, that's quite essential. This time that message comes in a quite straight forward pop song, which uses a classic Eurovision recipe; Repeat, repeat and repeat until the song is stuck in peoples mind and they can't prevcent themselves from singing along. Just within the first 45 seconds, I think I counted "we love who we love" noneless than 16 times – and it countinues like that. It's too much for me, but it might be effective.
Winner: Magnus Bokn
Duel 2
Nordic Tenors – In This Special Place
Ooh, this is interesting. A classic Disney musical song performed by three tenors. Yes, we have seen it before in Eurovision with Il Volo (Italy 2015), but yet this is different – and certainly unusual for Norway. This can go either way; the Norwegians think it's too sweet or read too much religion into its lyrics – or they fall in love and send this to the final. I would probably do the latter – I am in love, but I have to be honest and say that the studio version is far better than the live version from tonight. When changing from one person to another, the vocals several times weren't spot on as it have to be with a song like that.
VS
Hege Bjerk – Pang
A dreaming soulfull pop song about an eating disorder… this isn't your usual Eurovision topic, and damn, it's refreshing. The Synthesizers, many of us who grew up in the 1980's have heard too much, have become a big part of the music for this song, which is in Norwegian. I am really torn here. I don't like the song, yet I do like it. I can't figure out where I stand and the same might count for many Norwegian voters.
Winner: Nordic Tenors
Duel 3
As always, the winners of the two duels were to meet in a final knock out duel with the winner qualifying for the final. Magnus Bokn and Nordic Tenors took the stage to perform their entries one more time – and the Norwegians went online to cast their vote for the last time tonight.
To be fair, I have to add that Nordic Tenors sounded much better this time. Maybe their voices were better warmed up second time around? Even Magnus Bokn seemed to have improved too… it's two very different songs and very hard to predict who will win.
Winner: Magnus Bokn
As with the other heats, one of five pre-qualified finalists performed their entry on stage tonight. Tonight, it was time to listen to Attention by Ulrikke Branstorp – and here we have a beautiful ballad. It's really nice and well produced with a powerful chorus. The building up of the song isn't unlike last year's winner Arcade though. This will be an extremely strong contender in the national final in just two weeks – and maybe in Rotterdam too.
Melodi Grand Prix 2020 finalists
A total of 10 songs will compete in this year's Norwegian final – and with tonight's winner, only one spot remains free. That will be filled in the fifth and last pre-qualifying heat next Saturday.
| | | |
| --- | --- | --- |
| Heat  | Artists | Songtitle |
| 1 | Raylee | Wild |
| 2 | Rein Alexander | One Last Time |
| 3 | Kristin Husøy | Pray For Me |
| 4 | Magnus Bokn | Over The Sea |
| 5 | | |
| Pre-qualified | Sondrey | Take My Time |
| Pre-qualified | Didrik & Emil Solli-Tangen | Out Of Air |
| Pre-qualified | Akuvi | Som Du Er |
| Pre-qualified | Ulrikke Brandstorp | Attention |
| Pre-qualified | Tone Damli | Hurts Sometimes |