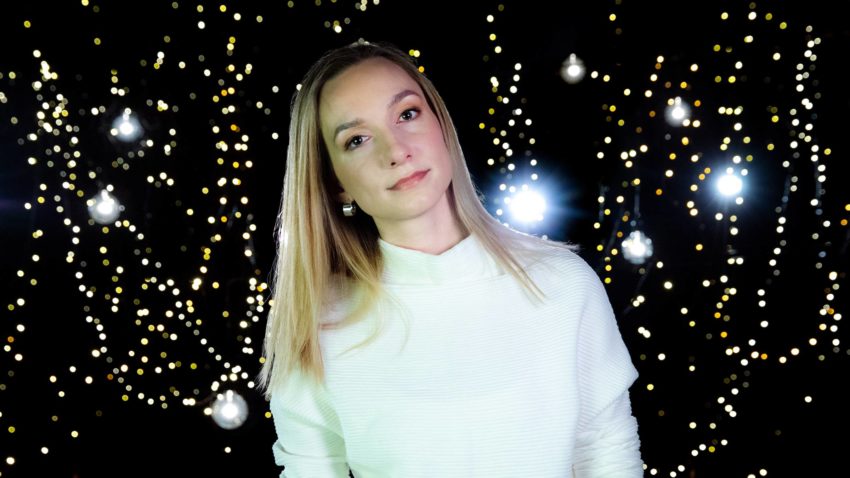 In a tough last heat, Liza Vassilieva knocked out his/her competitors and took the last spot for the Norwegian final. Next Saturday, 10 acts will compete for the honour of representing Norway at this year's Eurovision Song Contest.
The past four weeks, we have seen 16 acts compete for four places in the Norwegian Melodi Grand Prix final. With just one spot left to fill, another four acts took the stage tonight. They have all been selected to represent the North region.
Duel 1
Jenny Jenssen – Mr- Hello
I admit it, I am environmentally damaged. As soon as I hear the first swing tunes of this song, I think first of an entry from the Danish final in 1980; Swingtime Igen by Hans Mosters Vovse. After that, I think of the German 2009 entry Miss Kiss Kiss Bang – and then I think of the many TV series taking place in the 1930's and '40's including swing music. I can hear that Mr. Hello is quite catchy and Jenny seems like a lovely lady full of fun. It will probably will have its fans. It just isn't me. I am sorry. What I do like however is the story abour Jenny's last Norwegian participation in 2007. She was a newly mum, and her little baby girl was backstage with NRK's program director as babysitter! And that little babygirl is with her again tonight – as one of the dancers :-). Applause for using the purple colours on stage though. It makes it more 1980's than 1935. I like the colours, which remind of me of Bobbysocks (Norway 1985), but others will probably think it's wrong for this song. Good performance, I have to admit that too.
VS
Elin & The Woods – We Are As One
This is interesting! Elin and her producer Robin, who joined her on stage, describes their music as 'the electronic music of the indigenous', and that is actually quite fitting. We Are As One includes the sami sound, which we also heard on last year's Norwegian entry from KEiiNO, but it also has an inspiration from modern days electronic music. This could potentially do really well at Eurovision as it will stand out – or it could flop for basically the same reason. Aside from maybe Estonia, you can't imagine other countries choosing entries like this. The performance is back to nature. They stand in a swamp. Star Wars fans might think more of Yoda's home planet Dagobah. This is visually very beautiful, and I am sorry to Jenny, but this is a clear victory for Elin.
Winner: Elin & The Woods
Duel 2
Kevin Boine – Stem På Mæ (Vote for me)
This is a weird mix. It starts out as a piano ballad. After 20 seconds, guitars kick in and it becomes a country song. After another 15 seconds, the chorus kicks in with drums being added too – and the song is now taking shape as the country-folk pop song it is, but hang on, suddenly he starts to rap! Indeed, a weird mix. He is asking you to vote for him so that he can live a great life. It's fun – but I am afraid, he won't be getting many votes. He has a speech stand on stage and he is joined by four young female dancers and later two male dancers too. Near the end. musicians comes on stage too – one of them with a guitar which spits fire like Lordi's did.
VS
Liza Vassilieva – I Am Gay
If anyone is thinking that Russian born Liza is coming out the closet with this song, they would be wrong. Liza is straight, but this song is written to show solidarity with the LGBT community. For her, the song is about freedom to be yourself – and everyone who belives in that, should be able to say 'I am gay', no matter their sezuality. It's a happy, easy going pop song with an extremely powerful chorus which makes everyone able to sing a long to it half way through. It's cheesy, but it shouldn't be underestimated as it is quite enjoyable too. I, at least, enjoy it, and I have to admit that it is stuck in my head no matter if I want it or not. Liza is in a short silver glittery dress which sparkles with the lights on it. She has four male dancers in white and two female ones in pink! It is just as glittery and colourful as you would expect from a song like this.
Winner: Liza Vassilieva
Duel 3
The two duel winners now faced each other in one last round to win the spot in the final. As always, they had to perform again in a so-called 'Gold duel'. First on stage was Elin & The Woods followed by Liza Vassilieva. I thought it was easy to predict that these two would reach this stage, but if ever any was surprised, it was Liza. Her face when she was announced the winner of duel 2 showed that she didn't expect that at all.
What will the Norwegians go for now? The visually beautiful song, which will stand out on the Eurovision stage, but can go either way – or a happy catchy song everyone will sing along to, but which most likely can't win the Norwegian final?
Winner: Liza Vassilieva
Melodi Grand Prix Final line-up
A total of 10 songs will compete in this year's Norwegian final – and with tonight's winner, the line-up is now completed. These are the acts that are still in the run to represent their country at this year's Eurovision Song Contest.
| | | |
| --- | --- | --- |
| Heat  | Artists | Songtitle |
| 1 | Raylee | Wild |
| 2 | Rein Alexander | One Last Time |
| 3 | Kristin Husøy | Pray For Me |
| 4 | Magnus Bokn | Over The Sea |
| 5 | Liza Vassilieva | I Am Gay |
| Pre-qualified | Sondrey | Take My Time |
| Pre-qualified | Didrik & Emil Solli-Tangen | Out Of Air |
| Pre-qualified | Akuvi | Som Du Er |
| Pre-qualified | Ulrikke Brandstorp | Attention |
| Pre-qualified | Tone Damli | Hurts Sometimes |