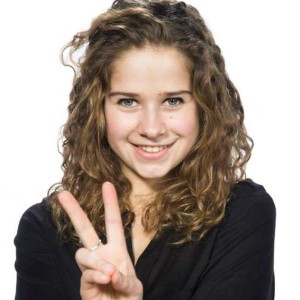 Minutes ago the Belgian national selection, Eurosong, ended with Laura Tesoro winning the honour of representing the country at this year's Eurovision Song Contest. The funky pop song titled "What's the Pressure" is the third song chosen for the contest so far.
At last year's Eurovision Song Contest, the Belgian representative Loïc Nottet scored a great result for his home country when he finished 4th with the song Rhythm Inside after the country had years of struggling to make it to the final.
Tonight five young artists competed to take up the challenge to secure Belgium yet another great result.
The songs
1. Adil – In our Nature
The first of the five competing songs is a modern pop song which currently lays somewhere between a talent show and a Eurovision performance. For those that want a rather simple song easy to relate to and get entertained by, this might be it, so don't rule it out. With him on stage tonight Adil had four dancers with tribal bodypant on them definitely making this rememberable for its originality.
2. Laura Tesoro – What's the Pressure
If it sounds like a Eurovision entry and is staged like a Eurovision entry, is it then going to be a Eurovision entry? This is the most energetic one of these five songs, and the funky pop song is well performed by Laura. It is catchy and certainly one with a good chance of making it to Stockholm. She is wearing black shorts, a black t-shirt and a dark purple short dress over it. She had five dancers behind her on stage.
3. Tom Frantzis – I'm not Lost
From Tom we get a pop song added a bit of rock elements on the chorus where we get plenty of electric guitar and drums. This one is easier to sing a long to and the song itself stands out a bit more despite Tom looking a bit more like an X-factor participant than an international Eurovision star. Tom, wearing a leather jacket, had a guitar with him and on stage was backed up by a band keeping the rock style of the song.
4. Astrid – Everybody Aches
Those that enjoy a bit of soul, but in a more modern style will be likely to find pleasure in this song. It is well arranged, but not to everyone's taste though. Astrid was wearing a copper coloured blouse and black trousers. She had four dancers with her on stage, all kept in dark all through the performance putting all focus on her, but unfortunately she does nothing to stand out.
5. Amarrylis – Kick the Habbit
We ended with a well arranged pop song of the more quiet kinds. It is quite enjoyable and one that most people can enjoy, but it is not one which you immediately sing a long to, and question is if people can remember it enough to actually vote for it. She was dressed in a shoulderless long dress. She had many old lamps on stage giving it a bit of a theatre appearance, and at some point a giant spiderweb was created behind her. Definitely one that stands out in its performance.
The show
The show held in AED studios in Lint, near Antwerp, kicked off at 20:25 CET with Peter Van de Veire as host. He started out sitting in the sofa with all the participants around him.
After the introduction of the participants, Hadise, Turkey's 2009 participant, entered the stage for a few songs including her Eurovision entry, Düm Tek Tek. She was introduced as "the one who got the best Flemish result at the Eurovision Song Contest, just a shame that it was for Turkey", referring to that she is born and raised in Belgium.
After each of the competing performances Hadise and Christer Björkman, Swedish 1992 participant, current Swedish head of delegation and Contest producer at this year's Eurovision Song Contest, gave comments on the acts. With Christer Björkman's role at the contest in Stockholm in May where he will have a key role in the staging of the 43 acts, it is fair to say that it is a bit controversial that he is to be found playing a role in any of the national selections.
A medley of former Eurovision songs was shown to pitch the history of the contest down in short. It didn't include the many big winners, but more odd elements. And if that wasn't spicy enough, things became a lot more interesting when the host seriously asked Hadise who will represent Turkey and she just as serious answered that "the Turkish participant isn't known yet". Unfortunately things aren't looking positive for a Turkish return to the Eurovision Song Contest.
After a break where the TV viewers were treated with an episode of a Belgian TV series, second episode of the programme started with a short Te Deum play and a recap of all five songs competing tonight.
The voting
Tonight's final in Eurosong consisted of two rounds of voting. In the first round all five acts received points via a 50/50 combination with televoting and an international jury consisting of Azerbaijan, France, Greece, Hungary, Ireland, Latvia, Montenegro, The Netherlands, Sweden and the United Kingdom.
| | | |
| --- | --- | --- |
| Participant | Combined International jury | Televoting |
| Adil | 79 | 80 |
| Laura | 107 | 120 |
| Tom | 100 | 100 |
| Astrid | 65 | 60 |
| Amaryllis | 79 | 70 |
After the first round of voting, the two acts with the highest amount of points went on to a second round of voting. These two were: Tom and Laura.
In the second round of voting from where the final winner would be chosen only televoting were used, but the result was the same as with the first voting, Laura winning ahead of Tom. Her performance from tonight can be seen in the embedded video:
Belgium at the Eurovision Song Contest
After joining the contest in its very first year, 1956, Belgium only missed out three year's of participation which happened due to low scores in previous years.
In 1986 Belgium got its first and so far only victory when 13 year old Sandra Kim under a lot of controversy about her age won the contest with the song J'aime La Vie. The country however also have three second places, the latest in 2003 with Sanomi performed in a made up language by Urban Trad.
Since 2005, where countries had to qualify from a semi-final in order to take part in the final, Belgium have had its struggles with no qualifications in the period from 2005 to 2009. In 2011, 2012 and again in 2014 the country also failed to reach the final.
Last year Belgium scored a 4th place with Loïc Nottet and his Rhythm Inside. You can refresh your memory on that great song in the video below: