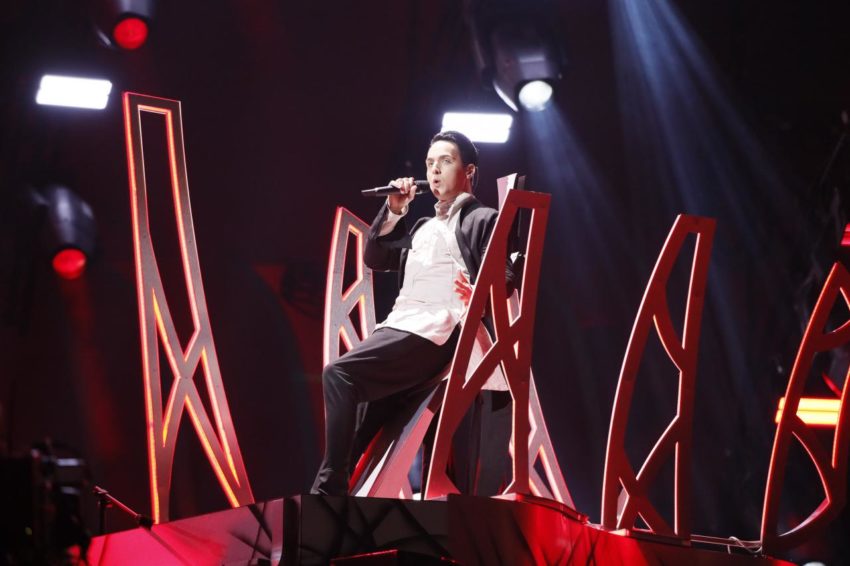 Half of the votes for tomorrow's second semi-final were cast this evening as juries across Europe and Australia watched the show, and voted. Their votes will now be added to the TV ones coming from the TV viewers tomorrow evening to make the final result. 
This afternoon press and fans were invited to watch the first dress rehearsal for the second semi-final, and already tonight, the juries had to give their points. We won't know how they voted until the split result is released after the final.
It wasn't just the juries watching tonight. It was open to the public and transmitted in the press centre. We watched it, and gave our predictions as to whom will qualify.
Watching tonight's jury show:
Jens-Erik (Denmark), Lauren (United Kingdom), Josef (Czech Republic), Michael (United Kingdom), Pedro (Portugal), Wouter (The Netherlands) and Charlotte (Denmark)
| | | | | | | | |
| --- | --- | --- | --- | --- | --- | --- | --- |
| Country/Writer | Jens-Erik  | Lauren  | Josef | Michael | Pedro | Wouter  | Charlotte |
| Norway |  Qualifier | Qualifier |  Qualifier | Qualifier | Qualifier | Qualifier | Qualifier |
| Romania | | | | | | | |
| Serbia | | | | | | | |
| San Marino | | | | | | | |
| Denmark | Qualifier | Qualifier | Qualifier | Qualifier | Qualifier | Qualifier | Qualifier |
| Russia | | | | | | | |
| Moldova | Qualifier | Qualifier | Qualifier | Qualifier | Qualifier | Qualifier | Qualifier |
| The Netherlands | Qualifier | | | Qualifier | Qualifier | Qualifier | Qualifier |
| Australia | Qualifier | Qualifier | Qualifier | Qualifier | Qualifier | | Qualifier |
| Georgia | | | Qualifier | | | Qualifier | |
| Poland | Qualifier | Qualifier | Qualifier | | | Qualifier | Qualifier |
| Malta | | Qualifier | | | Qualifier | | |
| Hungary | Qualifier | Qualifier | Qualifier | | Qualifier | Qualifier | Qualifier |
| Latvia | | Qualifier | | Qualifier | | | |
| Sweden | Qualifier | Qualifier | Qualifier | Qualifier | Qualifier | Qualifier | Qualifier |
| Montenegro | Qualifier | | Qualifier | Qualifier | | Qualifier | Qualifier |
| Slovenia | | | | Qualifier | Qualifier | | |
| Ukraine | Qualifier | Qualifier | Qualifier | Qualifier | Qualifier | Qualifier | Qualifier |