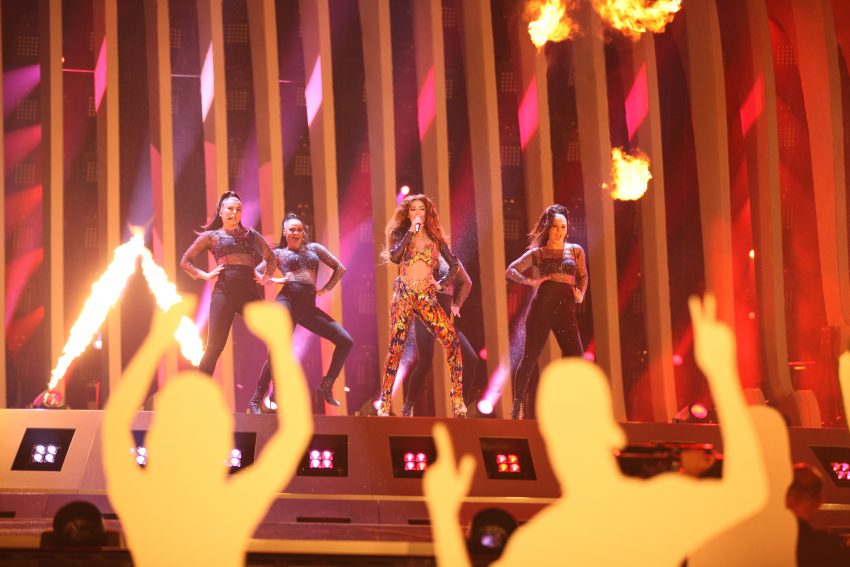 Half of the votes for tomorrow's first semi-final were cast tonight. Juries across Europe and Australia voted, and together with the public voting, they determine which ten songs qualify for the final Saturday evening.
This afternoon, we saw the first dress rehearsal for the first of the 2018 semi-finals. Tonight, the second one was on, and this time, it was much more than just a dress rehearsal as half of the points have now been given. The jury members were watching, and voting.
Our team watched the show as well – and based on that, each of us have predicted which ten songs will qualify for the final.
Also read: The finalists drew their approximate starting position for Grand Final
Watching tonight's jury final
Pedro (Portugal), Jens-Erik (Denmark), Josef (Czech Republic), Lauren (United Kingdom), Michael (United Kingdom), Wouter (The Netherlands), Charlotte (Denmark)
| | | | | | | | |
| --- | --- | --- | --- | --- | --- | --- | --- |
| Country | Pedro | Jens-Erik | Josef | Lauren  | Michael  | Wouter | Charlotte |
| Azerbaijan | Qualifier |  Qualifier | | Qualifier | Qualifier | | Qualifier |
| Iceland | | | | | | Qualifier | |
| Albania | | Qualifier | Qualifier | | | | |
| Belgium | Qualifier | | | Qualifier | | Qualifier | |
| Czech Republic | Qualifier | Qualifier | Qualifier | Qualifier | Qualifier | Qualifier | Qualifier |
| Lithuania | | Qualifier | Qualifier | Qualifier | Qualifier | Qualifier | Qualifier |
| Israel | Qualifier | Qualifier | Qualifier | Qualifier | Qualifier | | Qualifier |
| Belarus | | | Qualifier | Qualifier | | | |
| Estonia | Qualifier | Qualifier | Qualifier | | Qualifier | Qualifier | Qualifier |
| Bulgaria | Qualifier | Qualifier | Qualifier | Qualifier | Qualifier | | Qualifier |
| FYR Macedonia | | | | | | | |
| Croatia | | | | | | Qualifier | |
| Austria | | Qualifier | | | | Qualifier | Qualifier |
| Greece | Qualifier | Qualifier | | | | | Qualifier |
| Finland | Qualifier | | Qualifier | | Qualifier | | |
| Armenia | Qualifier | | | Qualifier | Qualifier | Qualifier | Qualifier |
| Switzerland | | | | Qualifier | | Qualifier | |
| Ireland | | |  Qualifier | | Qualifier | | |
| Cyprus |  Qualifier | Qualifier |  Qualifier | Qualifier | Qualifier | Qualifier | Qualifier |