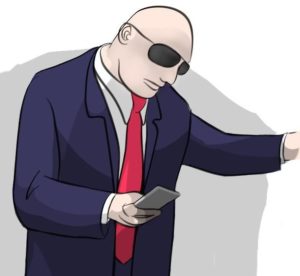 A noble dressed man, carrying a nice bag, is said to go around delegation hotels to exchange jury points. Mainly delegations from "serious countries" are approached. Deals are made, yet not always lived up to. 
Does this mystery man exist? According to singer Mladen Lukić from the band Balkanika, who backed up Sanja Ilić at the 2018 Eurovision Song Contest, the mystery man is real. In a recent TV interview, he told how this man arranged for countries to exchange jury points. The shady deals are even carried out quite openly, and not hidden away in dark hotel rooms with very few people present.
The mystery man is described as a noble man, who carries a nice bag. No other specific characteristics about his look is mentioned, just as we don't know which accent the man spoke with. He operates at hotels where he, as a middle man, helps countries make deals regarding their jury points.
Lukić is a bit vague in his explanation, but he says that Serbia was not approached this year, and that it is mainly for "serious countries". He specifically mentions that he overheard a conversation between the mystery man and the Australian delegation. According to the Serbian musician, the purpose was clearly to arrange who Australia should give jury points to – and what – and from whom, they would get in return.
He adds that it is not just about Australia. Without mentioning who, "several countries" did, or tried to, make deals regarding the jury points. Lukić however also adds that some countries aren't getting what they were promised. Some were cheated, in their attempt to cheat, as the deals weren't lived up to.
Mystery man or a misunderstanding
So, who is this mystery man? Without a better description, it would be wrong of us to start any guessing game. From the past we know that Azerbaijan in 2013 were accused of several things like offering a lot of money for high jury scores, but also to have groups of people in Lithuania who were given phones and instructions to vote for Azerbaijan.
It was also after the 2013 contest that "a southern European delegate" was mentioned as one who wanted to buy votes in return for positive PR coverage. Is this year's mystery man, the same as that southern European, or could he be connected to Azerbaijan, if they are still doing it? We simply don't know.
Finally, also in 2013, the British participant Bonnie Tyler was quoted for saying that she overheard the Russians complain to Azerbaijan that they didn't receive the points they had paid them for. That year, Azerbaijan didn't award Russia any points. If what she heard is correct, it matches Mladen Lukić's story very well about that these deals aren't always lived up to.
It could however also be a misunderstanding. If you overhear parts of a conversation, it is possible that you assume something which isn't the case. To overlook televoting and jury points, EBU have hired PwC (PriceWaterhouseCoopers). They have an observer present who is likely to talk to delegations at hotels to ensure a fair voting process. Without a voice recording of the conversation Lukić overheard, we can't know for sure, if it could be between that observer and the Australian delegation. But in all fairness, it has to be considered.
EBU took actions
After the accusations towards Azerbaijan in 2013, EBU looked into the case. In February 2014, Executive Supervisor Jon Ola Sand concluded the following: "The attempts were detected by our systems and the votes declared invalid… We concluded that there is no evidence that Ictimai TV had been involved with, or had been aware of the attempts."
They also responded with tighter rules. After the 2013 contest, the jury members would be known in good time ahead of the contest, and broadcasters can now easier be held responsible: "But the EBU and the Reference Group also want to protect the contest from unfair practice. It was therefore decided to hold each broadcaster more strictly accountable for any wrongdoing in favour of their entry, no matter where it comes from, and to automatically propose exclusion from the contest in case we detect cheating attempts."
We have reached out to EBU this morning about these new allegations regarding the mystery man. We would have liked to know whether or not they are aware of the accusations this year, and if they in the past successfully managed to stop such a behaviour. EBU did not respond to our request.