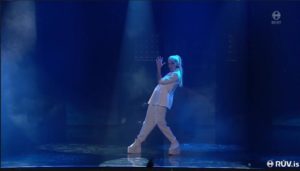 Seven acts battled it out in tonight's Söngvakeppnin 2017, Iceland's national selection for the Eurovision Song Contest. In the end, Svala Björgvinsdóttir with Paper managed to get the coveted ticket to represent the county in Ukraine this May, during a night that also featured 2015 Eurovision winner Måns Zelmerlöw.
This was the twelfth edition of Söngvakeppnin. Since 2006, the show has been used as the Eurovision national selection method for the Icelandic public broadcaster Ríkisútvarpið (RÚV).
The format
A total of twelve songs competed over two semi-finals, held on 25th February and 4th March. All songs had to include some lyrics in Icelandic at this stage. After a public televote, three songs from each semi-final progressed directly to the final round.
Tonight's final consisted of these six finalists plus an extra, 'wildcard' song from the first semi-final. All songs were performed in the language intended for Kyiv.
The voting for the Final Round was based on a 50/50 combination of a public televote and jury voting. The two top scorers from this round proceeded to a head-to-head battle in the Superfinal Round.
The winner of the Superfinal Round would go on to represent Iceland in Kyiv. The result was determined solely by public televoting for this round. Any voting from previous rounds did not count towards the Superfinal's result.
The jury
An 'international' professional jury for the Final Round was introduced to Söngvakeppnin this year. It consisted of seven Eurovision and/or entertainment insiders from five different countries, three of whom were from Iceland itself.
The professional judges were as follows:
Måns Zelmerlöw from Sweden, singer and TV personality. The w

inner of Eurovision 2015 and, arguably, the flagship judge of the night,

Julia Zemiro from Australia, Eurovision commentator, TV presenter and singer,
Bruno Berbere from France, TV producer. According to RÚV, Berbere has

 been involved in the juries of the French and Swedish Eurovision selections as well as the French edition of talent show The Voice,

Milica Fajgelj from Serbia, music manager. Part of the

delegations of 'several countries' in the Eurovision Song Contest over the years,

Snorri Helgason from Iceland, musician,
Andrea Gylfadóttir from Iceland, singer,
Þórður Helgi Þórðarson from Iceland, former presenter for Rás (Channel) 2.
The songs
1. Aron Hannes Emilsson – Tonight (video)
Tonight is an electronic dance number. The singer was not in the baseball cap worn during the 1st Semi-final. He was now dressed up in a white jacket and black leather trousers. He also looked more in command onstage than last time. He was soon joined by two male dancers and the three of them carried an, in parts, effective dance routine to the rhythm of the song. The vocal performance was competent and Aron Hannes Emilsson looked good on-screen. His stage presence was improved indeed and finally looked more laid-back rather than clumsy. Fresh and fun.
2. Arnar Jónsson & Rakel Pálsdóttir – Again (video)
Again is an atmospheric ballad with epic undertones that one has come to expect from Icelandic Eurovision entries. Like in the 1st Semi-final, the presentation started with alternate shots of the two singers. A particular shot of Rakel singing behind Arnar against the audience's waving mobile phone torch lights, as well as the presentation's finish with both singers in silhouette, were particularly effective. The vocals were in harmony and the extra polishing needed in the semi-final did take place for this performance indeed. This was a sweet little gem.
3. Aron Brink – Hypnotised (video)
Momentarily 'hypnotised' into thinking I was found in Trinidad & Tobago. There is a definite Calypso sound to this one! North Atlantic Iceland doing a Caribbean? And why not… The presentation started with the young singer closely surrounded by his group of backing vocalists. They soon broke into a lighthearted dance routine. Aron kept a smile on throughout. The hint of uneasiness registering on his face during the semi-final performance was gone tonight. Towards the end of the presentation, there was a very effective gimmick of fluorescent confetti being scattered in the air. Fun and very youthful – to the point of being reminiscent of a Junior Eurovision entry perhaps…
4. Hildur Kristin Sefánsdóttir – Bammbaramm (video)
Hildur was the one act that did not qualify directly from the 1st Semi-final but was given the chance to compete tonight after winning the selection's wildcard.
Bammbaramm is a rhythmic song with a hip-hop feel to it. The red heart-shaped frame from the semi-final was not on the stage from the start but came down from the ceiling. Gone was also the pink hooded top. The singer was wearing instead a sequined loose combo of a t-shirt and shorts. The onstage heap of disco balls that were a central feature of the semi-final staging was also gone. The three backing dancers were still part of the presentation. The whole thing looked and sounded less quirky and mellower tonight. Surprisingly sweet!
5. Rúnar Eff Rúnarsson – Make Your Way Back Home (video)
Make Your Way Back Home is a classic ballad, complete with an electric guitar riff, piano phrases and poignant percussion beats. Runar Eff looked and sounded confident. In the background, one could make out four silhouetted figures. As the song progressed, one by one, they came closer to provide the song's backing vocals. Square floodlights were flashing in the background and there was use of dry ice onstage. Starting conventionally enough, the song reaches a powerful climax towards the end.
6. Svala Björgvinsdóttir – Paper (video)
Apart from being a successful singer/songwriter in her own right, Svala is also the daughter of Björgvin Helgi Halldórsson, who represented Iceland in Eurovision 1995. Paper is a mid-tempo electropop ballad. Barely a few seconds into the song, the edgy beat grabs the attention. Just like in the 2nd semi-final of the selection, tattooed beauty Svala was dressed in a light-coloured suit, her star-dusted hair tied back in a ponytail and sporting large golden earrings. She looked confident throughout, while sharp use of spotlights, animated backdrop displays and laser effects suited the beat and overall atmosphere of the song. Difficult to go unnoticed.
7. Daði Freyr Pétursson – Is This Love? (video)
I spoke too soon. If Paper was difficult to go unnoticed, then Is This Love? was difficult to forget. For a number of reasons. The song has an unmistakably 80's electropop sound to it. The presentation started with oddly shaped, illuminated electric guitars and handheld keyboards being the only things visible onstage. The camera soon cut to the tall figure of the young, long-haired male singer, in his black trousers and green top. He remained as cool as a cucumber and maintained an eccentric, theatrically goofy gaze throughout. The musicians onstage included two backing singers. They all wore similar green tops with what appeared to be pixelated portraits of their own self on the front. The same pixelated figures were projected behind each of the six people on stage – a presentational addition to the semi-final. They occasionally swayed from side to side in formation. The laid-back, simplistic, tongue-in-cheek 'routine' also involved some intentionally exaggerated bum swaying. As if the presentation was not quirky enough, there was an extra handheld keyboard coming down from the ceiling, with the singer grabbing it and playing a solo. Having started more or less aligned across the stage, the backing musicians slowly moved closer and closer until they surrounded Daði Freyr Pétursson in time for the presentation's finale. Quirky, delightfully off the wall, Marmite… (Gosh, this was a handful to describe!)
The results
The Final Round results were as follows:
Final Round
draw
artist
song
televote
jury
total
place
result
1
Aron Hannes Emilsson
Tonight
 17,552
 14,604
 32,156
 3
 eliminated
2
Arnar Jónsson & Rakel Pálsdóttir
Again
 4,816
 18,095
 22,911
 5
 eliminated
3
Aron Brink
Hypnotised
 14,205
 11,111
 25,316
4
 eliminated
4
Hildur Kristin Sefánsdóttir
Bammbaramm
 2,977
 11,111
 14,088
7
 eliminated
5
Rúnar Eff Rúnarsson
Make Your Way Back Home
 5,545
13,650
 19,195
6
 eliminated
6
Svala Björgvinsdóttir
Paper
 45,258
 24,759
 70,017
 1
 through to Superfinal
7
Daði Freyr Pétursson
Is This Love?
 25,195
 22,219
 47,414
2
 through to Superfinal
Svala Björgvinsdóttir and Daði Freyr Pétursson were through to the Superfinal Round and performed their entries Paper and Is This Love? again.
The results of the Superfinal, 'duel' round were as follows:
Superfinal Round
artist
song
televote
result
 Svala Björgvinsdóttir
 Paper
49,818
WINNER
 Daði Freyr Pétursson
 Is This Love?
28,329
 runner up
Svala Björgvinsdóttir will represent Iceland with Paper in Kyiv this May!
The show
Söngvakeppnin 2017 was broadcast live from the Laugardalshöll national indoor arena.
The show was presented by actress, presenter and former Miss Iceland Ragnhildur Steinunn Jónsdóttir and was opened by last year's Icelandic representative, Greta Salóme, who sang her entry Hear Them Calling.
Every so often there were informal interviews with the contestants in the green room.
The interval act was Måns Zelmerlöw who performed his ballad Wrong Decision to a great round of applause.
Greta Salóme also took to the stage while the voting was still going on. There followed an interview that included footage of her work.
The surprise of the night was a duet of Greta with Alexander Rybak, the 2009 Eurovision winner. The two artists played together on their violins a short piece from Antonio Vivaldi's Summer from the Four Seasons.
Rybak then performed his winner song Fairytale, animating the crowd.
During a green room interview, Zelmerlöw spoke of his love of Iceland. He mentioned that there were two songs that stood out for him and thought could do well in Eurovision. He didn't sound so sure when asked whether he thought Iceland had a Eurovision winner this year however, causing lighthearted uproar by the crowd…
The interval act between the Final and Superfinal Round consisted again of performances by Greta and Måns Zelmerlöw. Måns Zelmerlöw gave a short rendition of his 2015 Eurovision winner Heroes and performed his single Glorious.
Iceland in the Eurovision Song Contest
2017 will mark Iceland's 31st participation in the Eurovision Song Contest. Since its debut in 1986, the highest placing for the island nation were two second places in 1999 with Selma and All Out Of Luck and in 2009 with Yohanna and the entry Is It True?.
Iceland has managed to qualify for the Eurovision Grand Final seven out of the twelve times it had to compete in the semi-final round so far. Last year, Greta Salóme with her entry Hear Them Calling did not manage to qualify for the Grand Final, marking the second time in a row that the country had failed to do so.
In the video below you can watch Svala Björgvinsdóttir performing Paper during the final Söngvakeppnin 2017.