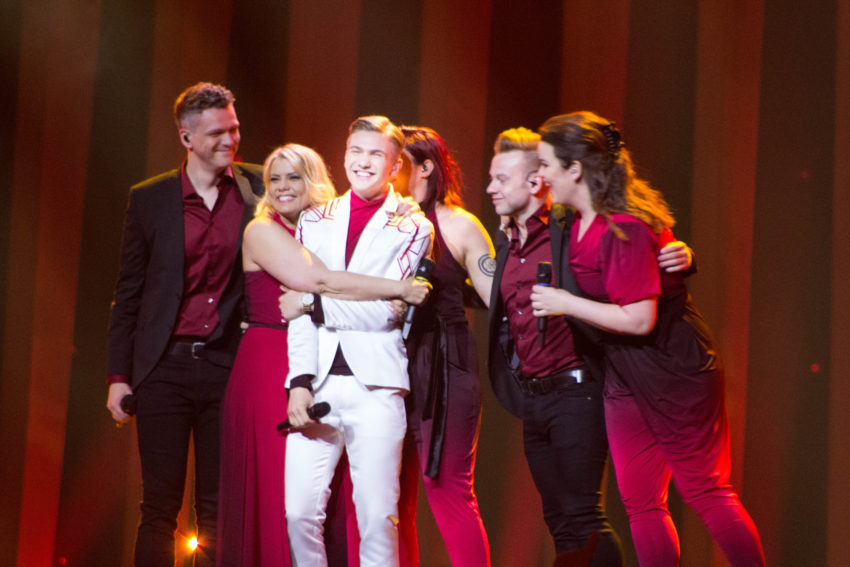 New photos from the second rehearsal – take a look. And hear Ari Ólafsson and Þórunn Erna Clausen – the author of Ari's song – sing their favorite song from this years Eurovision. It's in our Complete the sentence video below.
Our Choice
, which is written Þórunn Erna Clausen.
Eurovision Village
Gallery
Second Rehearsal
Opinions expressed during our second rehearsal coverage are personal from the mentioned writers.
Josef – Czech Republic (in the press center) Iceland bring a little bit dated but still very classy and well performed piece with Ari Ólafsson and his entry Our Choice. Simple staging is sometimes better than having a lot of props during the performance. As a lot of artists this year, also Ari comes with a red colour in his performance, in a combination with white colour suit. As I mentioned, a classy performance. Do I like it? Yes, I do. Is it enough for qualifying to the Final? Definitely not, especially in the first semi-final, which is really stacked with so many potential qualifiers.
Jens Erik – Denmark (in the arena) When I hear the Icelandic song this year, I think of old Irish Eurovision entries. I like Our Choice, but I was also born and raised with Eurovision songs like In Your Eyes and Why Me. Now 25 years later, it seems a bit old fashioned. It's a nice song, but for me it's Ari Ólafsson that gives me goosebumps. He's got a great and powerful voice and has no problems with hitting the high notes. I wouldn't mind hearing Iceland, when the ten qualifiers from semi-final one are announced, but there are so many great songs. It's just not possible to have all the great songs from this semi-final in the final, and as sad as it might be, I think Iceland will be forgotten.
Michael, United Kingdom (in the press center) I like this one a lot, but it has everything going against it. Placed in second, with all the strong performances to come it's going to get lost. Ari is a very likeable performer but the schmaltziness of the song will not be to a lot or peoples tastes. The official video is a good one to watch, but as a song in a large competition, this has little or no chance of winning. The staging is as good as they can do with this slow song.
Complete the sentence
First rehearsal
It could easily be named the peace anthem of this year's Eurovision Song Contest and Ari's outfit surely follows the theme. The singer is dressed in a white suit featuring a few red details and his hair is – as usual – impeccable. Obviously, because it was the very first set of rehearsals, Ari still has a few work to do with the camera angles but his also peaceful smile allows room to ignore that detail… For now.
The performance is extremely simple without special effects, besides the lights towards the end of the performance. Before the song's bridge, the Icelandic singer throws his microphone stand to the floor and is then joined by his five backvocalists in the center of the stage to finish the song.
Vocally speaking, Ari was quite competent and besides a few issues during the first rehearsal, specifically during the big note, he was just fine. Despite that, it is hard to say Iceland will have an easy road in front of them, especially coming after Azerbaijan's big performance.
How Ari Ólafsson was selected
Since 2006, Iceland has used Söngvakeppnin as their method of selecting Eurovision entries. This year, the final took place on the 3rd of March in the capital Reykjavík. Prior to the final, two semi-finals had found the six entries that were to battle it out.
In the super-final up against Dagur Sigurðsson, Ari won with 53% to 47%. The song was performed in Icelandic under the title Heim, which translates to 'home', in the semi-final, but in English in the final.
Iceland at the Eurovision Song Contest
With 30 appearances, Iceland is still waiting for their first Eurovision victory. Since their debut in 1986, the country has however twice finished second. First time in 1999 where Selma won the hearts of many Eurovision fans with All Out Of Luck, and again ten years later when Yohanna represented the small island asking Is It True?.
In recent years however, things has not been good. Iceland has not been in top 10 since Yohanna's second place from 2009. Best result in the years that followed was a 15th place to Pollapönk's No Prejudice. From 2015 to 2017, the country even missed the final three years in a row.