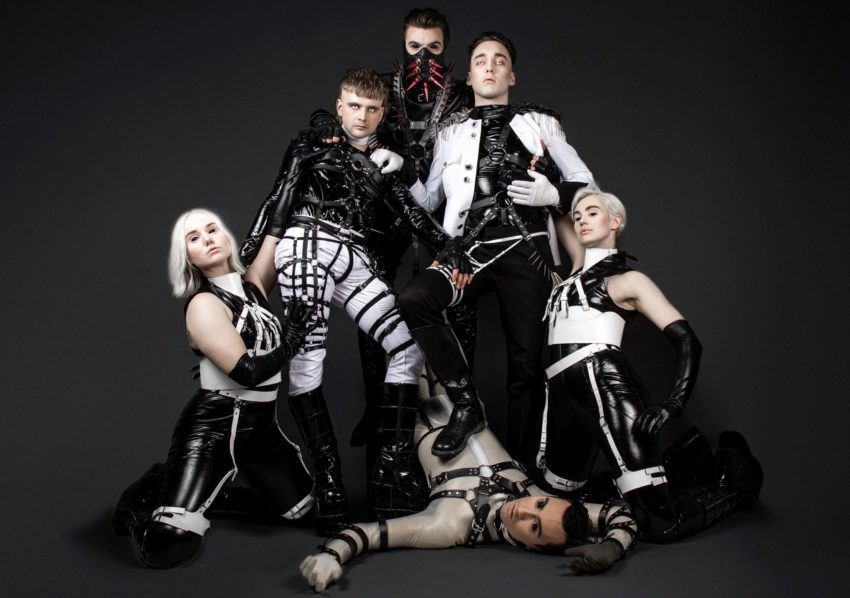 Tonight's Söngvakeppnin final gave victory to Hatari. This came after a close selection where it was hard to predict the result and thus who would be off to Tel Aviv, Israel in May.
5 entries (4 from the semi finals and 1 wildcard chosen by broadcaster RÚV) took stage for the grand final in Iceland tonight. Iceland will compete in the second half of the first semi final, which will take place on the 14th of May 2019.
Competing tonight, we saw two previous Eurovision stars among the finalists to win the right to represent the Nordic country again:
Hera Björk represented her country with her energetic uptempo song Je Ne Sais Quoi. Eventually, she finished in 19th place with 41 points in the grand final.
Friðrik Ómar was a part of the duo Euroband who competed for their country in 2008 along with his musical partner Regína Ósk. With their feel-good song This Is My Life, they took the 14th place with a total of 64 points in the grand final.
The Songs
Friðrik Ómar – Hvað ef ég get ekki elskað? / What If I Can't Have Love? (Friðrik Ómar Hjörleifsson & Sveinbjörn I. Baldvinsson)
Former Euroband (2018) member Fridrik appeared alone on stage inside a prisma of lightbeams and continiued the presentation of his romantic ballad on a round platform joined by his backvocalists later on. He was all in white. The stage was decorated with white ice images on a black platform. Light beams appeared again and suddenly the stage turned red and black but turned back to its previous style again at the end. Friðrik preferred to sing his song in Icelandic.
Kristina Skoubo Bærendsen – Mama Said (Kristina Skoubo Bærendsen, Sveinn Rúnar Sigurðsson, Valgeir Magnússon)
Tonight's wildcard came from Kristina who took the stage in her black slimfit torn jeans and navy blue shirt holding a guitar. She performed her mid tempo song along with her four dancers who all wore black suits. Kristina sang in English.
Tara Mobee – Betri án þín / Fighting For Love (Andri Þór Jónsson and Eyþór Úlfar Þórisson / Tara Mobee English)
Young Tara took the stage with her four dancers in her golden coveralls. She started her song on a round platform with her dancers. She continued her performance away from the platform on stage and finished back on the platform. Confettis were used during the uptempo parts of the song which was sung in English.
Hera Björk – Eitt andartak / Moving On (Örlygur Smári, Hera Björk Þórhallsdóttir & Valgeir Magnússon)
2010 participant Hera Björk presented us a romantic ballad unlike her previous uptempo entry back in 2010. She used her vocal abilities throughout the performance. She took the stage in her dark blue and white outfit matching with stage concept. Later on, her back vocalists joined her. The black and blue stage turned red at the end. Hera sang in English.
Hatari – Hatrið mun sigra (Hatari)
Bondage – Synth – Punk trio Hatari (Klemens Hannigan, Matthías Tryggvi Haraldsson, and Einar Stefánsson) took the stage in their signature leather outfits singing their one of a kind piece. The dancers were in leather costumes as well. Uniqie vocal styles, unique stage concept and unique choreography were the highlights of the performance. Fireworks were used from time to time on the multicolour stage. They sang in Icelandic.
The Show:
The National Final show in Laugardalshöll venue began at 20:45 CET. with a music and dance show from the hosts Fannar Sveinsson, and Benedikt Valsson.
All the entries were performed in the Icelandic language in the semi-finals due to the broadcaster's regulations. However, in the grand final, the artists were free to present their entry in the language of their choice, which is intended to be used in the actual Eurovision Song Contest.
Interviews with artists by Björg Magnúsdóttir took place after their performances. We've witnessed a slight technical problem with the sound during the start of the interview after the performances, but it was solved in short notice.
Yohanna, 2009 representative of the Nordic country, graced the stage performing Icelandic version of Shallow along with the hosts Fannar Sveinsson, and Benedikt Valssoand. Yohanna, in her red costume, sang "Is It Over" afterwards accompanied by a guitar, a piano and a chorus.
Iceland's 2018 representative Ari Ólafsson performed Our Choice. Ari had a longer hair and was wearing a black suit and red shoes. To our amusement, he also sang Il Volo's Grande Amore joined by two other tenors. The crowd went crazy.
Last year's runner up Eleni Foureira melted Iceland down with her Fuego and she also performed her new single Tomame.
Another special appearance was by Mr. Jon Ola Sand, the executive supervisor for the Eurovision Song Contest. He complimented the show and he stated that his favorite Icelandic entry is "Is it true" by Yohanna
The voting and the result
An international jury panel (including Eleni Foureira for Greece) and the public televote helped choosing the winning entry for Iceland. The International panel of expert judges also gave their opinions about each entry.
At the end of the televoting and international expert jury voting, Hatari and Friðrik Ómar, who received the overall highest marks got into the super final competition. In the superfinal, the winner was determined 100% by televote. As a result of the final round, Hatari was annouced the winner of the night with their song Hatrið mun sigra. Thus they received the honor of flying their flag of ther country in Tel Aviv.
Iceland's Eurovision history
Iceland joined the Eurovision family in 1986 in Bergen with group Icy and their song Gleðibankinn.
In 1999, Selma Björnsdóttir earned 146 points and a 2nd place with All Out Of Luck. That result was repeated in 2009. Yohanna and her romantic ballad Is It True earned 218 points in the grand final and got the 2nd place after Alexander Rybak.
Last year, young Ari Ólafsson participated in the name of Iceland with his strong ballad Our Choice. He unfortunately was eliminated in the first semi final with 15 points and 19th place.
The Nordic country is yet to win the contest and sadly couldn't see the final for the past 5 years in a row. Time will tell if things are to change this year.
Here you can watch the final performance of the winner:
In my view

I personally am a great fan of Hera Björk. When I first heard that she was going to try again, I was really excited. And when I heared her new entry, I was rather happy to hear what I was expecting… A quality song from a quality voice.

When I first saw Hatari on TV, I had a little shock 🙂 I have not seen something like this in my whole life before. When I was done with my first shock, I started to like the song. Eurovision needs uniqie and different styles.

Tara is a talented young artist, but this song seems not to fit her 100% (my opinion again).

Fridrik showed us his talent in ballads as well as uptempo songs and it was an impressive show from him.

The highlight of the night was Ari singing Il Volo's Grande amore with two fantastic tenors.

The opinion expressed in "In my view" are those of the author and are not necessarily the one of EuroVisionary.com.