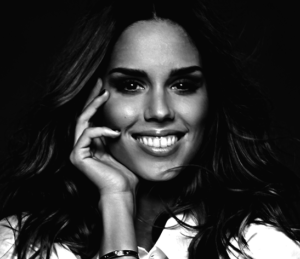 Franka will represent Croatia at the forthcoming Eurovision Song Contest in Lisbon with the song titled 'Crazy'. The song is written by Branimir Mihaljević, and later today, she will present her thoughts about it in a radio show.
Last year several local media claimed that HRT, Croatian national broadcaster, will bring back the national final Dora. Dora was used to select all of Croatia's Eurovision entries from 1993 until 2011. However, due  to financial difficulties, the broadcaster chose to select their representative in Lisbon internally. The story first broke by newspaper Jutarnji, that Franka was chosen with the song Crazy, and later this morning confirmed in a press release by Eurosong.hr followed by Franka's official annoucement on her Facebook page.
The girl who is going to wave the Croatian flag in Portugal this May is Franka Batelić also known as Franka. The title of the song is Crazy. Franka is 25 years old and from Rijeka. The singer became famous in her native country when she won Showtime, a TV show similar to Pop Idol, back in 2007.
Franka has previously participated in Dora twice. She debuted in 2009 finishing 7th in the national final, and the same as in her next attempt in 2010. It is interesting that Franka's song Ruža U Kamenu won the OGAE Song Contest back in 2008. In 2010, she announced the release of her first album, something that however never happened. Franka instead was absent from the Croatian music scene since 2013. She returned in December last year, when she released the love ballad S Tobom.
Crazy is written by Branimir Mihaljević, and today at 14:00, at HRT – HR 2 in the radio programme Drugi dio dana, Franka will talk about her participation and the song together with HRT's Music Editor Zlatko Turkalj Turki.
Croatia in the Eurovision Song Contest
Croatia's first appearance in the contest took place in 1993. The country's best result came in 1996 and 1999, when Maja Blagdan (Sveta Ljubav) and Doris Dragović (Marija Magdalena) both came 4th.
The country withdrew from the contest in 2014 and 2015, after they failed to reach the final four years in succession from 2010 to 2013. Last year in Kiev the country was represented by Jacques Houdek whose song My Friend finished 12th in the final, which is Croatia's best result since they came back to the contest in 2016. Remind yourself of that song in the video below.