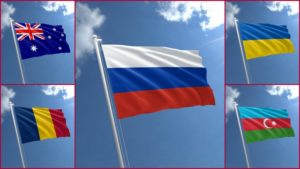 There will be a first time for everyone. So far, five countries have never missed the qualification from semi-final to final, but will it happen to anyone of them this year?
In 2016, Greece failed to reach the final for the first time when Europe didn't fall in love with Argo's Utopian land. To many Greece stood as a country that would always make it to the final, so that result was a clear indication that it can happen to anyone.
5 countries with a perfect strike
Five countries are now left with a perfect strike; Azerbaijan, Russia, Ukraine, Romania and Australia. Could 2018 be the year when one or several of them fail to make it?
Azerbaijan
Only one of these five countries take part in the first semi-final. That's Azerbaijan with a good 10 out of 10 strike, meaning 10 Eurovision appearances and 10 finals.
This year, they are represented by Aisel and the song X My Heart. Currently the bookmakers place her as qualifying, but only on the 10th and last position, so if they are to be trusted, she might just be in danger of not making it.
Romania
In the second semi-final we find the other four countries. First up is Romania in start position number two. They go into the 2018 contest with a stunning 18/18 strike.
The Humans will represent the country this year, and so far, the bookmakers don't believe in their song, which happens to be titled Goodbye. It's currently in 12th position where only the first ten will qualify, so they have some work to be done.
Russia
Starting as 6th in the second semi-final, we find Russia. To date, they have an outstanding good track record with 20 finals in just as many attempts.
After the country withdrew for the 2017 edition, Julia Samoylova has been selected once again. Despite many reporting about poor live vocals, the bookmakers either believe it will be fixed for Lisbon, or they believe Russia will have enough friendly votes to help them through. Currently they have her in 9th position to qualify. Not perfectly safe though, so we will wait and see if Russia might get into problems.
Australia
As a specially invited country, Australia was automatically qualified for the final in 2015 where they took part for the first time. Australia's perfect strike therefore only counts two years.
The bookmakers don't believe that their 2018 participant Jessica Mauboy will be in any danger of not qualifying this year. Currently, she is tipped second to qualify, just after Sweden.
Ukraine
The last country with a perfect strike is 2017 host country Ukraine. They have a strike of 14 qualifications out of 14  appearances.
With the song Under The Ladder, Mélovin is representing the country this year. He performs last in the second semi-final, but the bookmakers are quite sure that it won't be his end result. They place him third in the semi-final, and as such he should be sure to participate in the final as well.
Poll
Eurovision wouldn't be exciting, if the bookmakers were always right however. They have been wrong before, so until we actually hear the result of the semi-finals all these five countries could potentially lose their perfect strike this year.
What do you think? Vote for the countries in the poll below to tell us if you think any of these will fail to qualify for the final this year.
To see more bookmaker predictions, we recommend that you visit Eurovision World's Odds section.