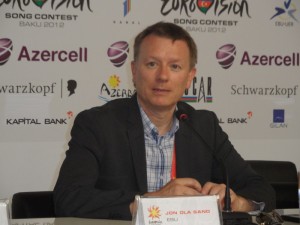 After the 2020 Eurovision Song Contest, Jon Ola Sand will leave his position at the European Broadcasting Union. He will return to Norway for a position at the head office of public broadcaster NRK. Mr Sand leaves EBU after 10 years in charge of the Eurovision Song Contest.
He has worked with the Eurovision Song Contest for 20 years, first at Norwegian broadcaster NRK, and the past nine years as Executive Supervisor for the EBU. The 2020 contest taking place in Rotterdam, the Netherlands will be his last. EBU today announced that Jon Ola Sand returns to NRK – and that they will start searching for a new candidate to fill his position.
The past decade at the European Broadcasting Union (EBU) has been fantastic and exciting, but it will also be good to come home. I have been involved with the Eurovision Song Contest for over 20 years. First as Head of Delegation for Norway, then as Executive Producer in Oslo in 2010 and I have been privileged to have been the captain of the ship in Geneva for the past 9 years.

Rotterdam will be my 10th Contest as Executive Supervisor and it seems a good time to pass on the baton and take on a new challenge at NRK. In my new role I will work to ensure that NRK continues to be a world-class public broadcaster and will be in the best possible shape for the future.

Jon Ola Sand to Eurovision TV
EBU will now start to look for the right person to take over from the Eurovision Song Contest. Many broadcasters have great candidates so it will not be an easy task.
Jon Ola's commitment and calm steady hand over the last decade has been invaluable to the EBU and its Members. He has overseen the growth and development of the Eurovision Song Contest over the past decade and created, together with EBU Members, the most advanced entertainment show in the world helping to safeguard the longevity of this much-loved show that unites audiences from across the globe.

Jon Ola will now oversee his 10th Eurovision Song Contest for the EBU in Rotterdam before taking up his new role at NRK.

Jean Philip De Tender, Director of Media at the EBU