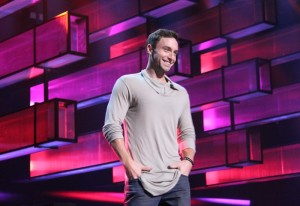 The BBC has announced that two previous winners of the Eurovision Song Contest will perform at this year's national selection show called Eurovision: You Decide. The show, which will air on 26th of February, will be an X Factor-style show where the public will get to choose between six acts to send to Stockholm in May to represent the United Kingdom.
The winner of the 2015 Eurovision Song Contest, Måns Zelmerlöw who won with his song Heroes and was also announced to be the co-host of this year's contest in Stockholm will perform his winning entry on the BBC show.
Zelmerlöw, who won through his own country's national selection called Melodifestivalen, went on to perform his song on the Eurovision stage in Vienna back in May. After being awarded 365 points, the singer from Sweden gave his nation its 6th victory.
Joining Zelmerlöw on the BBC stage will be the UK's own winner of the 1997 Eurovision Song Contest, Katrina Leskanich of the band Katrina and the Waves. The band met international success in the mid 1980s when Katrina and the Waves released the single Walking on Sunshine, which reached No 9 on the US Billboard and No 8 on the UK Official Charts. In 1997, they made an unexpected come back with the song Love Shine a Light which helped them bring the 5th and so far final victory for the United Kingdom at the Eurovision Song Contest.
Eurovision: You Decide, airs on BBC Four on February 26th, and the six songs and contestants will be announced via BBC Radio 2 on February 22nd.
Check out Katrina and the Waves' winning performance below of Love Shine a Light at the 1997 Eurovision Song Contest live in Dublin.