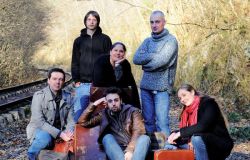 After several weeks and preselections the Belgium final was held in Liège tonight. The winner was chosen by a 50:50 mixture of televoting and jury vote. Finally Witloof Bay will represent Belgium in Düsseldorf with the song "With love baby".
The broadcaster RTBF already started their national selection last autumn with a web based contest. 30 acts managed to achieve an amount of 20.000 €. Because of this high number of candidates a semi final was held on January 30th where 14 acts were voted to final.
The show Qui? A vous de choisir started on 20:15 CET and was hosted by Jean-Louis Lahaye. Right at the beginning he introduces the expert jury who would determine 50% of the votes. There are four jury members who have a connection to Eurovision:
– Sandra Kim who won the Eurovision Song Contest in 1986
– Viktor Lazlo host of the Eurovision Song Contest 1987 in Brussels
– Jean-Pierre Hautier (Eurovision Song Contest commentator)
– Charles Gardier (artistic director of Francofolies de Spa).
The jury judges after every song and gives either a "Yes" or a "No" together with an explanation why they decided like this.
The songs:
1. Steve Linden – C'est la musique
When I heard this song for the first time I thought this could be a winner. A fresh song which causes a good mood and is very catchy. The vocal performance is very good. Steve wears blue jeans and a black jacket. He is accompanied by two male backing singers and three dancers in harlequin costumes who appear quite silly and do not suit to the song.
Jury: 2x yes, 2x no. Sandra says she likes the song, it would be a good Eurovision entry. Viktor replies she misses the charisma.
2. Nelza – Be my friend

The duo Nelza consists of two female singers. The style of the song is very country and folk like. It has a very happy and catchy tune. The two girls wear a country-like outfit with cowboy boots and skirts. They have two female backing vocalists on stage as well as a violin player.
Jury:  3x yes, 1x no. Jean-Pierre and Charles say that they shine on stage. It would be a good contribution to Eurovision. It is very fresh and could do well.
3. Sarina – Rien en apparence
Sarina is a 16 year old, blind artist who composes her songs on her own. Her song is a midtempo ballad. She accompanies herself on the piano and is completely alone on stage. Her voice is very clear. So far she receives the biggest applause.
Jury: 2x yes, 2x no. Sandra loves the song. It has a nice melody and Sarina has a good voice, but in her opinion it is no song for Eurovision. Viktor answers the song electrified her. It is a wonderful song and a beautiful artist.
4. Thayss N'Bau – Somewhere with you
Thayss N' Bau is a duo from Brussles. The song starts like a ballad with the female part singing. The male singer stands behind the keyboard and raps the verses while she sings the chorus. It has a catchy tune and is indeed a modern midtempo ballad with a nice beat. She wears a red dress, he is dressed in black. They are accompanied by three dancers on stage.
Jury: 4x no. They say it is not a bad song, but something is missing to be a good entry for Eurovision.
5. Clac et le Portes – Claquer les portes
Clac et le Portes consist of six members. The song is very much folk style. It starts with a violin, followed by guitar and accordeon. During the whole song the title "Claquer les portes" is repeated several times which makes the whole song very repetitive. The audience seems to like it though.
Jury: 2x yes, 2x no. Charles says they are very good artists, but this is not the right song to go to Eurovision. Sandra is very amused about this song and loves their style.
6. Chloé – Just one chance
Chloé is a 16 year old artist who reminds a bit of Miley Cyrus. Her song is a catchy uptempo pop number. She wears a short sequin dress and has two female backing vocalists and two male dancers on stage. In comparison to the semi final her vocal performance is slighly better today.
Jury: 4x no. It is a good song, but it would have been more suitable to the Eurovision in the 90s. Chloé is encouraged to go on because she is still young.
7. J Cool – Dans ma chanson

The song is very jazzy and uptempo. J Cool has two musicians on stage and gives a very good and convincing vocal performance. black, purple vest
Jury: 4x no. Jean-Pierre thinks it is a good song, but not at all suitable for Eurovision. It is too much Francophone. Sandra says it is not fancy.
8. Gautier Reyz – Addiction
The next style we hear is rock. The song is uptempo and full of energy. Gautier is accompanied by four dancers, dressed in black/red. He himself wears a black leather jacket, a white shirt and black trousers. He sings well until the end when he starts to scream.
Jury: 2x yes, 2x no. Charles expresses that he misses everything: personality, a good composition. In general he was not touched by the song. Viktor replies that it was very good, especially energetic performace.
9. .fen – Yes I know
.fen participated in the casting show « Pour la gloire » in 1996. His song has a harmonica intro moving into an ukulele accompany. The whole tune appears relaxed. You could hear this song while lying on the beach. .fen plays the guitar and has four additional musicians on stage. In total the song is average and seems to miss a highlight.
Jury: 3x yes, 1y no. Sandra likes the song very much. .fen's charisma is great. He has a wonderful voice and it is a beautiful song. Viktor does not agree with her. In her opinion it was too repetitive.
10. Witloof Bay – With love baby
Witloof Bay is an a cappella band. They have five singers and one beatboxer. The song is of course completely sung a cappella. It is very funky and reminds a bit of the Latvian entry I hear your heart. The chorus is vey repetitive and despite the good vocal performance it becomes annoying after some time.
Jury: 4x yes. They praise the good vocal performance. The song is first class. The group did a great job and the song would be very good for Eurovision.
11. Alexandre Deschamps – Elle merveille
This song starts with gypsy sounds. Alexandre plays the guitar and sings this uptempo song very well. The tune is very catchy and happy and provokes a good mood. Alexandre is accompanied by two female backing vocalists and two musicians. One of them plays the accordeon which can be heard during the whole song.
Jury: 4x no. They all point out that it is a very good and fresh song, suiting very well for the radio but not for Eurovision.
12. Syla K – Simple love
Syla K's music style is very Motown inspired. So Simple love is a bit of motown, soul and R'n'B. Syla's voice sounds very good. She wears a red dress and red boots. On stage she is accompanied by five backing vocalists who do a great job. 
Jury: 2x yes, 2x no. Sandra likes Syla's dress and even more she likes the Motown style and the sound of the backing vocalists. Viktor criticizes that the whole performance appeared too artificial.
13. Kaptain Oats – Reset
The song begins like a blues and turns soon into rock. Fitting to this Kaptain Oats are dressed in black. There are four musicians on stage playing e-guitar and SCHLAGZEUG. The singer is screaming most of the time and the song is not catchy at all.
Jury: 2x yes, 2x no. Jean-Pierre compares them to Lordi. The song is too repetitive for him and he does not like rock at Eurovision. Viktor likes this song because it is full of energy.
14. The Blazing – Our way
The Blazing consist of three leading and two backing vocalists. Their song starts slowly and turns into a catchy uptempo pop song. The whole style reminds of the British band Steps. The choreography is good, but unfortunately their voices sound quite weak. Especially the male lead singer is out of tune during the verses. Anyway, they seem to be one of the public's favourite.
Jury: 4x no. They cannot explain why they do not like the song. It was just the whole package. Sandra says she only liked a part of the choreograpy which seemed to be similar to her gestures in the choreography of J'aime la vie.
The show:
After the last entry we saw a reprise of all 14 entries and the lines were opened for ten minutes. Sandra Kim comes on stage and presents her song Anywhere the wind blows.
Jury result:

1 point Alexandre Deschamps
2 points Syla K.
3 points Kaptain Oats
4 points Gautier Reyz
5 points Steve Linden
6 points Claque et les Portes
7 points Nelza
8 points .fen
10 points Sarina
12 points Witloof Bay
Results televoting:
1 point Claque et les Portes
2 points Kaptain Oats
3 points J Cool
4 points Chloé
5 points Steve Linden
6 points The Blazing
7 points .fen
8 points Sarina
10 points Alexandre Deschamps
12 points Witloof Bay
Combined result:
1. Witloof Bay
2. Sarina
3. .fen
So we will see Witloof Bay performing With love baby in Düsseldorf. They will try to repeat the good score Belgium achieved last year with Tom Dice and Me and my guitar. Belgium will perform in the second semi final on May 12th.