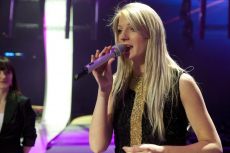 The statuesque Daria Kinzer got her first opportunity to Celebrate her song on stage today.  Her song, which has gone through three title changes involved the first long-awaited use of the catwalk.  We hoped she wouldn't break a leg.
The general effect of this was very similar to Daria's national final performance.  On stage with Daria were four very active backing singers, and an equally active male DJ.  His mixing desk is covered in a sequinned shower curtain effect.  This same sequinned shower curtain effect was also employed in a costume change by Daria midway through the song.
She starts the song in a very short black dress with a gold stripe down the middle.  After the costume change is magically becomes a floor length white dress.  The backing singers showed off black leather jackets, presumably what they'll be wearing on the night.  The DJ is in a combination of black and silver.
Our backdrop is very dark, to give the impression of a disco.  It seems to work.  Daria is also our first performer to make use of the C-shaped catwalk.  We've been eagerly waiting for someone to use it, and Daria spent the middle third of the song at the end of it.
As I've mentioned before, this is a very open semi-final.  If the right people are watching next Tuesday, then almost any of the songs we've heard could qualify.