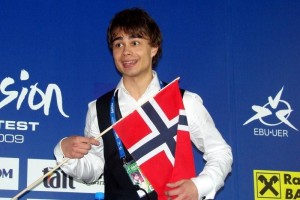 Are you one of those who sometimes feel the need to smack Alexander Rybak – or do you just want to try a silly little, but fun game? The Norwegian broadcaster has published a game where you get points depending on how many times you hit the 2009 Eurovision Song Contest winner in his head.
The game, which is called Whac-a-Rybak, is available at NRK's website and it is quite easy to get the hang on. 8 holes are available and Alexander Rybak's head will show in one of them. With your mouse you have to hit it before it digs down again and is shown somewhere else. It goes faster and faster and ones the time runs out it is game over. If the comments are to be taken serious the current record is 84 points. Can you beat that?
When the game is over you have the option of posting it to your Facebook profile or send an e-mail challenge to one of your friends. To do this enter your own name where it says "Fra" and enter your friends e-mail address where it says "Til". Click the Facebook logo if you want your score shown on your profile. Remember to have pop-up's allowed.