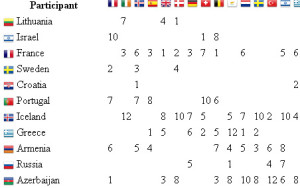 Ukraine complains about EBU forcing them to announce 8 points to Russia when they insist that it wasn't their points and Armenia is saying that Azerbaijani TV wasn't showing the voting number for Armenia properly.
Vice-president of the Ukrainian broadcaster, Roman Nedselskij, says that they have written an official letter to EBU demanding an explanation to why they were forced to announce 8 points to Russia. He states that the Ukrainian jury gave no points at all to the Russian entry and that both jury and TV viewers gave the maximum 12 points to winning country Norway. This means that the Ukrainian TV viewers could not have given Russia more than 10 points. 2 minutes before Ukraine was to announce the points they got a phone call from EBU telling them the points they had to announce in the live show – including 8 points for Russia. "We got a shock when we were told to announce that the Russian representative got incredible 8 points from Ukraine.  It was pure manipulation", Roman Nedselskij says.
The Russian representative, Anastasija Prikhodko,  is strangely enough Ukrainian and Svetlana Loboda representing Ukraine is Russian! Anastasija has however made herself unpopular in her home country when she was disqualified in the Ukrainian national final and afterwards apparently sent an official letter to the president complaining about it!
Armenia and Azerbaijan aren't the best of friends and this year's Eurovision Song Contest is not going to change that. The Armenian broadcaster is accusing its neighbor country of deliberately obstructing the number Azerbaijanis should call to vote for Armenia. Armenia got no points from Azerbaijan while they themselves awarded AySel & Arash with 1 point.