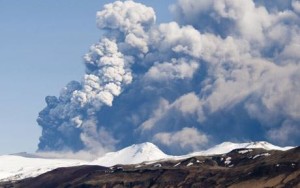 An ash cloud from an Icelandic volcano has caused inconvenience to millions of people in Europe as most planes have been grounded since Thursday afternoon. Among the many people who found themselves stuck in another country looking for alternative transportation were Chanée & N'evergreen.
The Icelandic volcano called Eyjafjallajökull has due to the wind been blowing a big ash cloud over most of Europe. As this can be dangerous to planes most Nordic and Central European countries closed down their air space Thursday. In the days after some Eastern European countries had to follow examples. Quite a lot of people were stuck in a country far from home and while others are capable of enjoying an extended holiday others have been searching for alternative transportation to get home.
Media has reported how the British comedian John Cleese took a taxi from Oslo in Norway to Brussels in Belgium from where he could get a train connection to London. The Danish representatives for the 2010 Eurovision Song Contest Chanée & N'evergreen got stuck in Moscow after having performed at the Russian Music Award. All planes towards North Europe were cancelled so they had to think about alternatives, although not nearly as expensive, as well. They spent 14 hours on the train from Moscow to Helsinki. From the Finnish capital they took the ferry to Stockholm and from there yet another train to Copenhagen. What would have been a couple of hours on the plane ended up being more than 48 hours of travelling.
Tomas might have been able to stay in Moscow where he lives, but as a true gentleman he escorted Chanée on the long journey so she could get home to her 3 year old daughter. Back in Denmark they are working on their album to be released in relation to the Eurovision Song Contest and time will tell if their eager to get back home will result in a good album.