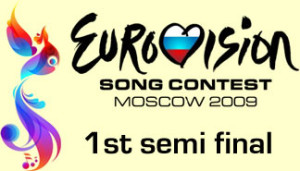 It's almost here! Very soon, the delegations will arrive in Moscow and rehearsals will begin for the 54th Eurovision Song Contest. The question on everyone's lips is who will be celebrating participation in the final, and who will stomp off in a huff?
Eurovisionary has listened to the songs and would like to share who we think will sink, and who will swim. We start with the first semifinal and once you have had the chance to digest the information and place your bets, we will endeavour to shed some light on the second semifinal.
Montenegro – Andrea Demirovic – Just Get Out Of My Life – Montenegro have yet to qualify from the semifinals. Not surprising given the quality of song they have entered. This year, they are relying on the contest veterans, Ralph Siegel and Bernd Meinunger, to give them their first place in the final. The song is better than the German duo usually write.
Verdict – The final beckons
Czech Republic – Gipsy.cz – Aven Romale – Like the Montenegrins, the Czechs have never been in the final with their previous two songs. Aven Romale is messy and not quirky enough to win enough votes. At least Gipsy will give a decent performance, unlike Tereza Kerndlová.
Verdict – Third time unlucky.
Belgium – Patrick Ouchéne – Copycat – The semifinal system hasn't been kind to Belgium. They have only been in the final once since semifinals were introduced, and that was in 2004 when they qualified automatically. As long as the performance isn't over played, it is strong enough to be remembered when the phone lines open, and nostalgia often goes down well.
Verdict – Will make a sufficient impression
Belarus – Petr Elfimov  – Eyes That Never Lie –This song didn't work last year, what makes them think it will work this year?
Verdict – I never lie either, I can't see it in the final.
Sweden – Malena Ernman – La Voix – She came from nowhere to win the enough support from the Swedish public to win the Melodifestivalen. It would be a major shock if Sweden weren't in the final with what is arguably the best song in this semifinal.
Verdict – Of course it will qualify.
Armenia – Inga & Anush Arshakyanner – Nor Par (Jan Jan) – It's nice to hear the ethnic sound, although it would be even better in Armenian rather than English. Like the Czech song, it's a bit messy and therefore lacks a sing-along factor that a song like this needs.
Verdict – Close but not quite there.
Andorra – Susanna Georgi – La Teva Decisió – Every year Andorra sends a decent song which has a chance of qualifying and every year they manage to completely muck up the presentation. Appartantly, there will be no backing dancers for Susanna, just backing singers. This will help as long as there are no mad costume ideas like last year.
Verdict – Maybe next year
Switzerland – Lovebugs – The Highest Heights – In a contest dominated by solo singers, it's great to see a proper band strutting their stuff.  This is a catchy, yet musically credible song whose arrangement allows the song to remain interesting.
Verdict – Will just about make it in 9th or 10th place.
Turkey – Hadise – Crazy For You – One of the first songs to be chosen, it mixes Turkish ethnicity with cosmopolitan influences. A popular tactic nowadays and it is bound to work again.
Verdict – Of course it will qualify for the final.
Israel – Mira & Noa – There Must Be Another Way – To some people, an Arab on stage with an Israeli is the ultimate betrayal. However, as there are no Arab countries voting, it shouldn't be an issue. As for the song, it's an appeal for peace and understanding, a theme  Israel isn't shy of singing about in the contest,  which sometimes works and sometimes doesn't. There Must Be Another Way is sung partly in Hebrew and partly in English, and is strong enough to qualify on its own merit. Verdict – With a strong performance virtually guaranteed, it will be in the final.
Bulgaria – Krasimir Avramov –  Illusion – Expect the presentation of the Bulgarian song to be the most spectacular and elaborate of all the songs this year. A full scale stage production has proved in the past to be enough to see a song through to the final when it didn't deserve to be there, and it should be enough for Krasimir. That said, it is also quite possible the presentation could go too far and put off the voters. That would be a shame as the song is of sufficient quality to qualify. 
Verdict – The stage show will see it through to the final.
Iceland – Yohanna – Is it True? – While this is a very nice song, the fear is it might not linger long enough in the ears of the public to win enough votes. It will be a stark contrast to the Bulgarian song before it which might help.
Verdict – It will just miss out.
FYR Macedonia – Next Time – Nesto Sto Ke Ostane – As the only proper rock song in the first semifinal, it stands a chance of qualifying. However, it's probably too repetitive for non-rock fans and this will prove its downfall.
Verdict – Maybe Next Time
Romania – Elena – The Balkan Girls – The song is certainly good enough to qualify for the final, but how many songs which have been good enough haven't done so? Maybe the time to sing about Balkan girls was last year, it would at least have been topical.
Verdict – An unlucky non-qualifier.
Finland – Waldo's People – Lose Control – A lot will depend on the live performance but they pulled it off in the Euroviisut, so there is no reason to think they won't do so in Moscow. The rap part of the song could be where their chances come unstuck.
Verdict – Will scrape through to the final.
Portugal – Flor-de-Lis – Todas as Ruas do Amor – Portugal now have the sentimental vote, being the longest participating country not to have won the contest. Recently, they have been well below the standard that Portuguese music is capable of, but were right back on form last year. This time, they are represented by a charming, traditional song.
Verdict – Ethnic songs are more popular that they used to be and so Portugal should be in the final.
Malta – Chiara – What if We – Chiara is one of the big (in more ways than one) names in the first semifinal. It's typical Chiara fare and on the wrong side of boring. While fans hold her in high regard, the voting public might vaguely remember her.
Verdict – This prediction could easily be proved wrong, but it's an early flight home for the Maltese.
Bosnia & Herzegovina – Regina – Bistra Voda – While every year there are one or two songs which don't get out of the semifinals, there are also one or two who do qualify but don't deserve to, enter Bosnia. The song starts off very promisingly, but goes absolutely nowhere.
Verdict – Their fame in the region should ensure their progress.
So, here are the songs that we think will join the Big 4 in the final on May 16th:
Montenegro – Andrea Demirovic – Just Get Out Of My Life
Belgium – Patrick Ouchéne – Copycat
Sweden – Malena Ernman – La Voix
Switzerland – Lovebugs – The Highest Heights
Turkey – Hadise – Crazy For You
Israel – Mira & Noa – There Must Be Another Way
Bulgaria – Krasimir Avramov –  Illusion
Finland – Waldo's People – Lose Control
Portugal – Flor-de-Lis – Todas as Ruas do Amor
Bosnia & Herzegovina – Regina – Bistra Voda