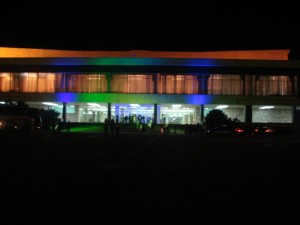 Despite having been rehearsing for a week and held the obligatorily press conferences afterwards the 2008 Eurovision Song Contest was officially opened on Sunday evening.
All the participants were present at the reception and while some of them preferred just to make a short appearance others saw it as another occasion to entertain an audience.
Below you find two videos from the official opening reception. In the first one Sirusho who represents Armenia in the 2008 Contest decided to sing a song for her Romanian competitors, Vlad and Nico. Afterwards Vlad decided to return the honor by singing a song for her.
In the second video the Cypriot singer Evdikia takes over the stage and after her performance you can see how the Portuguese representative took the dance floor instead.
In our gallery you find a photoalbum containing pictures from the opening recpetion.