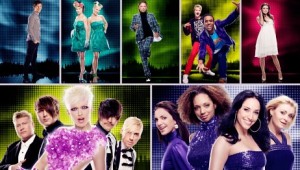 Norway kicked off with the first out of four preliminary heats.Velvet and Thomas Brøndbo qualified directly for the final while Espen Hana and Surferosa will get a second chance later.
For many fans it is something special when the Scandinavian countries begin their national selection. Norway did what they could to make sure that the fans had a good evening; a real party with 7 very different songs. No matter how hard it might have been to kick some countries out then it was a fact that for three of them this first heat would also be their end station. The TV viewers decided that Velvet deserved to qualify directly for the final for their Britney Spears -style song Tricky. The same honour was awarded Thomas Brøndbo for the song Det Vart En Storm. Espen Hana will get a second chance with his 50's crooner song Two Of A Kind. He will be joined by Surferosa singing U Look Good.
Kate Guldbrandsen was among the audience and her 1987 Eurovision Song Contest entry Mitt Liv was performed on stage in quite an alternative cover version with a children choir backing it up. For those who remember Kate's haircut from 1987 it was quite funny seing this performance where the three male backing singers appeared with same carateristic haircut. 
After all three preliminary heats have taken place and decided upon which six acts are directly qualified the six lucky losers will be getting a second chance on the 14th of February to qualify. The Norwegian final takes place on the 21st of February 2009.     
The 2009 Norwegian selection shows, the Melodi Grand Prix, is hosted by commentator Per Sundnes and singer Maria Haukaas Storeng who represented Norway in Belgrade finishing 5th with Hold On, Be Strong.