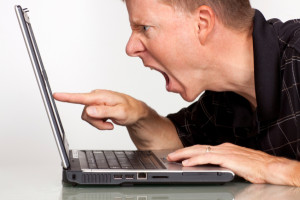 It has been two days since EBU, almost literally, threw a bomb into the world of Eurovision. Various petitions, started by fans concerned for their beloved show, are floating the net and now media gets involved as well suggesting a compromise.  
Concerned neighbours might have turned up on many Eurovision fans' doorstep Wednesday in order to rescue the person behind the loud screams. As they heard what they thought was a desperate call for help in a life or death situation they forced the door open and was met by a person rambling things like "it is not fair", "they can't do this" and "they will influence the result". The very confused neighbour would naturally have asked what on earth the person in so much pain was talking about – and he might have thought about calling the psychiatric hospital if being told that it was about the Eurovision Song Contest!
Maybe a bit exaggerated, but fact is that many fans and followers of the Eurovision Song Contest didn't receive EBU's rule change, as it was announced by Eurovision.tv Wednesday, that well. The article stated that it would now be up to the producers and EBU to decide the starting positions of the participating countries. It didn't take long before social media like Facebook and Twitter was full of fans commenting with a WTF or the much nicer sigh. Soon followed various petitions started in order to get EBU to pull back this new rule and questionnaires showing you that most of your online friends strongly were against this.
The idea behind this change of rule should be to make a more interesting TV show, where it was possible to mix the songs better according to genre. As the starting position however has proven to have some kind of influence on the actual result, this was received as being too unfair.
Today ESCInsight brings a longer statement against letting the producers and EBU decide too much in the running order. Contrary to the screaming fans this is done in a more scientific way. It is build up with quotes from Executive Supervisor of the Eurovision Song Contest, Jon Ola Sand and researches from  Dr Paul Jordan from the University of Glasgow.
As this new change of the rules has already been through EBU's Reference Group and it is likely that the expected participating broadcasters of the 2013 Eurovision Song Contest already will have been informed, this is probably something everyone will just have to live with for the contest in Malmö. After that there is a new edition to be planned and who knows if the many protests from fans and other followers of the Eurovision Song Contest might have an impact on EBU.
To the neighbour the Eurovision Song Contest might just be "just another TV show", but for many the contest, that started back in 1956, is so much more than that.