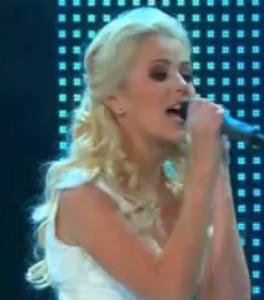 Ukraine's selection process for the 2011 Eurovision Song Contest started in October 2010. This evening, it finally came to an end. It proved worth it for Mika Newton, who emerged from the pack as the winner.
To remind everyone watching of past glories, the membeAni Lorak and Alyoshars of the jury which helped pick the winner included 2004 winner, Ruslana as well as Ani Lorak and Alyosha. The hosts of the show were Savik Shuster and Gajtana. Nineteen acts strutted their stuff in the hope of being given the opportunity of being the second Ukrainian winner of the world's biggest musical event.
1)   Zlata Ognevich – Kukushka – A contemporary pop song
2)   Darya Medovaya – Infinity – A gentle ballad
3)   Zhemchug – Hero – A mid-tempo pop song
4)   Bahroma – Yeyo Imya – A slow and rather dull number
5)   Alexey Matias – Myself – A mid-tempo rock song
6)   Jamala – Smile – The Lily Allen of Ukraine, and not because of the song title
7)   Mila Nitich – Goodbye – A slow ballad
8)   Elena Korneeva – Why Did I Say Goodbye – It starts slowly but becomes up-tempo power pop
9)   Denis Povaliy – Aces High – A badly sung pp song which is hard to take seriously
10) El Kravchuk – Moya Nadezhda – A slow to mid-tempo rock song
11) Shanis – Tsvetok – A likeable ballad
12) Vitaliy Galay – My Expression – A modern pop song
13) Mika Newton – Angel – A consistently paced ballad
14) Eduard Romanyuta – Berega – Teen rock
15) Tatyana Vorzheva – Vsyo Resheno – Very catchy, instantly likeable pop
16) Ivan Berezovskiy – Ave Maria – It starts normally enough, then comes the chorus!
17) Zaklyopki – Superhero (u-la-la) – Below par girl pop
18) Vladislav Levitskiy – Love – A reasonable rock ballad
19) Anastasia Prikhodko – Action – A burst of electro-pop
The voting was a three way affair. There was a public vote via text message which accounted for 45% of the total, a jury, also accounting for 45%, and internet voting making up the final 10%.
Previous experience has shown that nothing is simple in Ukraine, and so it was this time. A small technicality saw the early demise of Vitaliy Galay and Tatyana Vorzheva for having too many people on stage.
At the conclusion of the voting procedure, Mika Newton emerged as the winner and will represent Ukraine in the second semi-final.