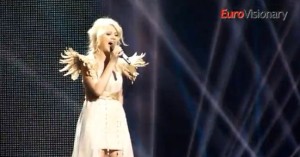 Successful Slavic country, Ukraine, continues their national selection via its broadcaster NTU to participate at the Eurovision Song Contest next year in Baku. Besides twenty semi-final qualifiers, a wildcard via internet selection will have the honour of participating in grand final which will be held on February, 10th.
National broadcaster in Ukraine, NTU, co-works with a newly opened social website, say.tv for the stage of internet selection. The winner of the internet selection will get a wildcard and will join the other twenty qualifiers for the semi-final. The grand final in the Ukrainian selections will take place on 10th February 2012.
According to official statements from the directors of NTU, anyone interested in joining the Ukrainian selections, can record with her/his own webcam and then submit it to the page in social network of say.tv. The deadline of the internet selection is also specified as 31st January, 2012. The winner will get a wildcard which take him/her directly to the grand final.
Besides the new steps in the Ukrainian selection, another wildcard will already be given to the winner of Show NumberOne which was held by another broadcaster, InterTV with the presentation by previous Ukrainian and Russian representative names, Ani Lorak and Philip Kirkorov. The rest of the names in the grand final will have to qualify from the semi-final, which will be held on January 20th.
Below you can watch Mika Newton's Angel, which secured a forth position in last year's Eurovision Song Contest.