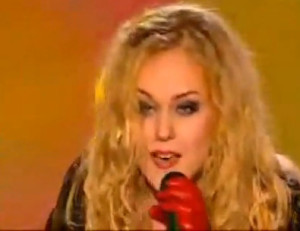 This evening, the final of the Ukrainian selection was held. It was the culmination of three days of competition and resulted in Alyosha being chosen to sing To Be Free.
Ukraianian broadcaster, NTU, decided earlier this week to hold a new selection, this time in public, to find their representative for Oslo. Original choice, Vasyl Lazarovych, was allowed to compete with the song that was chosen for him, I Love You. He was one of twenty singers and songs in the competition.
The twenty songs had been chosen from an open selection day held on Thursday 18th March. The selected songs were then broadcast on television that night and again the following day. The songs up for selection were:
1. Vitalij Kozlovskij – [email protected]?
2 .Vasyl Lazarovych – I Love You
3. SH & BB – Ne Zhurys'
4. Oleksij Matias – Anhely Ne Umirayut
5. Band Zakliopky – Anybody Home?
6. Ivan Berehzovskij – Utro
7. Duet St'ereo – Ne Shodi S Uma
8. Iryna Rosenfeld – Forever
9. Shanis – Lechu K Tebe
10. Max Barskih – White Raven
11. Vladislav Levitskij – Davaj, Davaj!
12. Miya -Vona
13. Band Da Zzle Dreams – Emotional Lady
14. Masha Subko -Ya Tebya Lyublyu
15. Zlata Okhnevych – Tiny Island
16. Mira Gold – Crazy Lady
17. Nataliya Valevska – Europe
18. Yuliya Vois – Zavyazhy Mne Glaza
19. El Kravchuk – Fly To Heaven
20. Alyosha – To Be Free
After the public had voted, there was a tie between Alyosha and Masha Subko. The in-house jury, made up of professionals had the final say and decided that Alyosha should be the one to try to give Ukraine it's second victory in the Eurovision Song Contest. Vasyl Lazarovych finished seventh.
Alyosha will compete in the second semi-final.