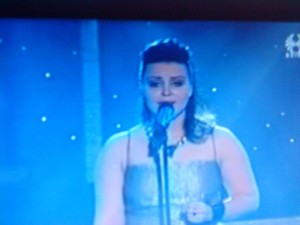 Iceland started their selection process for Oslo on 9 January 2010. The first of 3 semi finals began to find the Icelandic song for the 2010 Eurovision Song Contest. 2 songs will qualify from each semi final. The final will be on 6 February 2010.
The participants in semi final 1
Íris Hólm – The one
Matthias Matthiasson – Out of sight
Sigurjón Brink – You knocked on my door
Kolbrún Eva Viktorsdóttir – You are the one
Karen Pálsdóttir – In the future
The first song by Íris was a nice ballad that was very well received by the audience. This must have a great chance of making it to the final.
Matthias was next up with a country-rock type song. This was also well received but sounded a little dated.
Sigurjón presented a piano ballad. This song did not appear to be very memorable.
Kolbrún also presented a ballad. 3 of tonight's songs were ballads. Obviously, after the success of last year this is maybe what Iceland are looking for again.
Karen was the final act of the night with a mid tempo r&b type song. I thought this was different enough to make it to the final.

However, the 2 songs to go forward to the final are Matthias Matthiasson with his country-rock type song and Íris Holm with her gentle ballad. EuroVisionary wishes both acts the best of luck in the final.