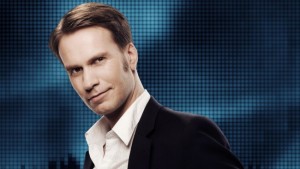 Tonight, Norway continued their search for someone to take over where Alexander Rybak left and defend the country on homeground in Oslo. A former Eurovision Song Contest singer and a Eurovision-winning songwriter battled it out with five other entries. Did they convince the population to give them another go?
Among the seven participating songs was Hanne Haugsand who represented Norway at the 2000 Eurovision Song Contest as one third of the trio Charm, who sang My Heart Goes Boom. Tonight she was up against a Eurovision Song Contest winner, composer Rolf Løvland, who wrote Norway's first two winner songs, La Det Swinge from 1985 and Nocturne, from 1995. This time Maria Arredondo had the pleasure of singing his song.
The seven songs competing toinight were:
Venke Knutson – Jealous Cause I Love You
Skanksters – Life Is Here Today
Tomine Harket – Be Good To Me
Hanne Haugsand – Don't Stop
Maria Arredondo – The Touch
Heine Totland – The Best Of Me Is You
Alexander Stenerud – Give It To Me

First it was revealed who will get a second chance to convince the population that they deserve a place in the Norwegian final. From tonight's second heat that is Heine Totland and Venke Knutson. However, two acts were so convincing that they went straight to the final and that honour went to…. Alexander Stenerud and Maria Arredondo. Alexander came third in last year's Norwegian final so maybe he is going to get his chance on the international stage this year? Time will tell as next week another seven acts are ready to show that they can impress just as much.
Below you can see the two winning performances from tonight's second heat in the 2010 Norwegian selection.