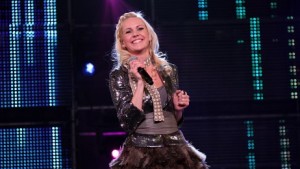 The six strongest songs in the Norwegian competition have already qualified for the final, but tonight two more songs got through via the socalled Last Chance. They still have a possibility of representing Norway at the 2010 Eurovision Song Contest, although they here will have to improve as they have already lost to at least two of the other songs.
Duel1: Skanksters vs. Bjørn Johan Muri:
As Skanskters got through as one of the lucky 5th positions they will have a hard time qualifying for the final. In this first duel it is however a bit more difficult as Bjørn Johan Muri came from the first of the three prelininary hearts, the weakest one of them. Bjørn has a lot stronger song though which should mean that the joke song from Skansters is stopping here. 
Tonight there is only SMS voting in order to recieve the results shortly after. The winner of duel 1 is as expected Bjørn Johan Muri.
Duel2: Gaute Ormåsen vs. Heine Totland:
Gaute Ormånsen also came through from the first heat. He is performing the only song in the entire competition that is in Norwegian. Heine Totland qualified from the second heat. This is a difficult choice as the two songs have some similarities, but as Heine Totland is more convinsing on stage he should make it.
The winner of duel 2 is quite surprisingly Gaute Ormånsen and he will now be up against Bjørn Johan Muri in the second round. They both came from the first heat and will as such already have met once.
Duel3: Johnny Hide vs. Mira Craig:
Johnny Hide is yet another participants from first heat although he got through to this last chance as one of the two lucky 5th positions. He is here in this second duel up against Mira Craig, who qualified from the third heat. Mira should not have any problems winning this third duel.
The winner of duel 3 is just as expected Mira Craig. She will be up against the winner of duel 4.
Duel4: Karoline Garfjell vs. Venke Knutson:
Karoline Garfjell got through from the third heat. She is now competing against Venke Knutson who qualified from the second heat. The two songs are very similar and as such it can be a hard decision and it really is impossible to tell who the Norwegians prefers. Some might even have problems seperating them and that might be an advantage for Venke as she performs last. 
The winner of duel 4 is Venke Knutson.
Is it is now as the commentators announced time for a cup of cofee as there will be half an hour break before the show continues.
And we are back and ready for two more duels:
Duel5: Bjørn Johan Muri vs. Gaute Ormånsen:
Both men delivers a good performance, but my guess is that Gaute Ormånsen will get the ticket for the final next weekend. He should benefit from the song being quite traditional Norwegian folk music style – and it probably doesn't go against him that the song is the only one sung in Norwegian, but I guess we shouldn't forget the power of the 12-16 year old girls voting for Bjørn.
Duel6: Mira Craig vs. Venke Knutson:
How many men haven't been dreaming about a catfight between two beautiful women? The Norwegian TV viewers saw that now as Mira Craig and Venke Knutson fought for the second ticket to the Norwegian final. Music wise I would prefer Venke to go through, but Mira has a bigger name and some might even pick her just to have her and Maria Haukaas Storeng competing in the final.
Before the winner is announced Ian Wright continues his seatch for what makes Norway do better than the United Kingdom at the Eurovision Song Contest. Tonight he talkes to Jan Groth, who was a part of Just4Fun who represented Norway in 1991. After that he even gets arrested for knowing too much and he is being threatend to have to stay in Norway for the rest of his life now that he is so close to finding the Norwegian secret.
The two singers that qualify for the final are Bjørn Johan Muri and Venke Knutson.