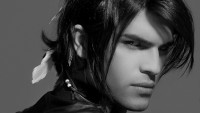 After three semifinals the final of this year's Melodi Grand Prix took place tonight to pick the Norwegian representative for Baku. In an exciting and well-produced show Tooji finally won the ticket to Baku and will try to take the Norwegians to a Eurovision final again.
During the last three weeks the Norwegian broadcaster NRK held a total of three semifinals with each eight participants. From every semifinal three artists were voted to the final. As the tenth participant Lise Karlsnes was announced. She received a wildcard to take part in the final.
The songs:
1) Tooji – Stay
Stay is a very modern uptempo popsong. It has lots of oriental influences. Tooji who is dressed in black pants, a blue shirt and a black leather jacket delivers a confident and vocally flawless performance. He is accompanied by four dancers on stage. Together with Tooji they show a perfect choreography to this entry. The audience likes it a lot.
2) Reidun Sæther – High on love

High on love starts slow, but turns into a midtempo pop song with the beginning of the first chorus. Reidun who wears short and tight red dress tonight gives a very strong vocal performance without any hearable mistakes. This is definitely perfect Europop. At the end of the song we see some pyrotechnics. Just like Tooji Reidun earns a big applause for her performance.
3) Lise Karlsnes – Sailors
Lise was lucky to receive a wildcard to take part in the final. Her song is very 80s like with lots of electro beats. Lise has two female dancers with her on stage. They are all dressed in very tight black jumpsuits. Lise's voice sounds good, but at the end her song appears a bit repetitive. 
4) Plumbo – Ola Nordmann
This is tonight's first song in Norwegian and Plumbo seem to be the big favourite to win this final. The song is typical Nordic. It starts with one band member playing the flute. He is accompanied by some drums. With the first chorus the song builds to some kind of a rock anthem. All band members are dressed according to this – like a typical rock band. So far they receive the biggest applause. Could this be the Norwegian entry for Baku? We will see.
5) Malin – Crush
Malin is a young girl who already represented Norway at the Junior Eurovision Song Contest. Her song is a typical teenie pop song. It is very bouncy and cheerful. Malin delivers a very sweet performance. She wears a short beige coloured dress and dances along to her song. She has five female dancers on stage who are dressed like ballet dancers. Malin's voice sounds good, she is much stronger than in the semifinal. The crowd loves her.
6) Nora Foss-Al Jabri – Something beautiful

Nora Foss Al-Jabri is next on stage. Just like in the semifinal she delivers a very strong performance to this beautiful musical or disney-like ballad. She wears a blue dress and looks very sweet with her plaited hair. In the middle of the song she is accompanied by
two female violin players on stage. Big applause for her as well.  
7) The Carburetors – Don't touch the flame

The Carburetors perform a rock song which is full of energy. We can see lots of pyrotechnics on stage. All band members are dressed in black leather jackets. The catchy song appears very loud due to the usage of several e-guitars and drums. If the Norwegians want a rock song in Baku, this could be the one.
8) Petter Øien & Bobby Bare – Things change
After The Carburetors we have this smooth and melodic song on stage. What a contrast! Things change is a country song. According to this Bobby Bare wears a cowboy hat and a leather jacket while Petter is dressed in black pants with a blue shirt. They are accompanied by a band and a female violin player. Bobby's and Petter's voices harmonize perfectly.
9)  Yaseen & Julie Maria – Sammen
From country style we now move to a very modern song with lots of hip hop elements. The verses are rapped by the artists while the chorus is sung. Yaseen and Julie Maria give a very energetic performance on stage. Both seem to be less nervous than during the semifinal which has a positive effect on their voices which sound stronger than last week. The highlight of the song is the big choir that comes on stage near the end. They sound almost like a gospel choir, but how would they sound in Baku when the number of artists on stage is limited to six?
10) Tommy Fredvang – Make it better

Last on stage is Tommy Fredvang who performs a catchy pop song with some rock elements. He is alone on stage, only accompanied by some pyrotechnics from time to time. He wears black pants and a dark blue shirt. In the final part of the song he picks up the microphone stand
and dances along with it. The audience – especially the female part – likes his performance a lot. 
The show:
The show started at 19.55 CET and was presented by Marte Stokstad and Per Sundnes. At the beginning all artists were named and they went down the stairs to the stage. Before every performance a short introduction film was shown to present the artists. After all ten performances a reprise of all entries was shown together with the numbers for the televoting.
As an interval act all artists performed the first Norwegian Eurovision entry Voi voi. Each artist presented the song in his own version as a tribute to Nora Brockstedt who represented Norway in 1960. At the end all ten artists sang together on stage. In the meantime the lines were closed and the show was interrupted for about 30 minutes.
After the break four entries were voted to the so called super final. These four were:
Plumbo – Ola Nordmann
Nora Foss-Al Jabri – Something beautiful
Petter Øien & Bobby Bare – Things change
Tooji – Stay
Every song that reached the super final was presented once more. In the meantime we saw Jon Ola Sand, the executive supervisor of the Eurovision Song Contest interviewed on stage. He received a warm applause. Did the audience do this because he is Norwegian?
After having heard all super finalists again it was Alexander Rybak's turn. He delivered a unique medley of several Eurovision entries, such as My heart is yours (Norway 2010), Fly on the wings of love (Denmark 2000), Hold me now (Ireland 1987), Haba Haba (Norway 2011), Satellite (Germany 2010) and of course his own winning entry from 2009, Fairytale. Alexander Rybak already performed a Eurovision medley at this year's Danish final which was held three weeks ago.
Following Alexander Rybak's performance was a short film about Baku.
The results:
Jury:
1. Somewhere beautiful
2. Stay
3. Ola Nordmann
4. Things change
Televoting:
1. Stay
2. Somewhere beautiful
3. Things change
4. Ola Nordmann
Total result:
1. Stay
2. Somewhere beautiful
3. Things change
4. Ola Nordmann
So Tooji has the honour to represent Norway in Baku. After Stella Mwangi's failure to qualify for the final in Düsseldorf, the country hopes for another participation in a Eurovision final again. Norway will perform in the second semifinal on May 24th, 2012.