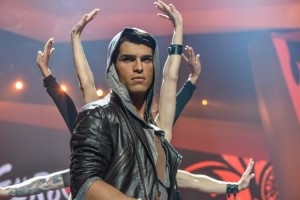 Tooji gave a slick and energetic performance of Stay at Norway's first rehearsal at the Crystal Hall.  The final run through included some pyrotechnics.
Tooji took to the stage wearing his hood. He was accompanied by four dancers and one backing vocalist.
The stage performance is similar to the Norwegian national final.  There is a lot of energy and the stage lighting is very bright.  This makes a good overall effect.
There is also lots of strobe lighting and the final run through included some spectacular pyrotechnic work.
The song and performance will remind viewers of last year's Swedish entry but Norway have every chance of doing well if this makes it through the final.