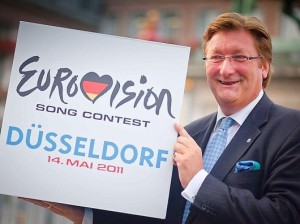 Soon after Düsseldorf's appointment as the host city of the Eurovision Song Contest 2011, thousands of fans contacted the ARD and the Esprit Arena to ask for tickets. In general, the tickets are sold from January onwards, but now, NDR (North German Broadcaster) announced that the presale shall already start within the next 3-4 weeks.
NDR is also considering selling tickets for the dress rehearsals to check the acoustics and the atmosphere. While the tickets in Oslo cost up to 250 Euro, they should be cheaper in Düsseldorf. Thomas Schreiber, entertainment coordinator of ARD, said that they plan the cheapest price category to be 19 Euros. The organisers have already warned about dubious offers in the internet that demand up to 1000 Euro per ticket.
In the meantime, the appointment as the host city was celebrated in Düsseldorf. The city and the arena management have already founded different task forces to prepare the contest in cooperation with the WDR (West German Broadcaster). They focus, for example, on the media centre, which shall be located in a gym of the Arena Sportpark and offers enough space for 2000 journalists.
The technicians will concentrate on the big stage. For the semi finals and the final, the arena will have a capacity of 24000 spectators.