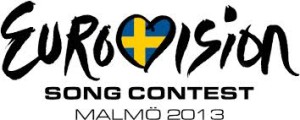 The postcards made for the Eurovision Song Contest have become an institution in their own right.  Sometimes they reflect the life and times of the country that is hosting, sometimes they have a more abstract feel.  This year, we repeat the theme of such years as 1996, when the performers are followed about their daily lives.
As we saw for the first semi-final, Swedish broadcaster SVT has tried a different approach to the postcards we see between the songs.  This time, the cameras followed the performers around their native lands to find out a little more about their home life.  
01. Latvia: PeR – Here we go
Riga on a snow-bound misty morning, and PeR are seen going to rehearse singing and dancing.  They are fans of driving simulators, and appear to be very good at them.  We finish with them off to a gig. 
02. San Marino: Valentina Monetta – Crisalide (vola)
Valentina likes jogging around her hilly homeland.  She's then seen putting on make-up before singing to a small select crowd of fans. 
03. FYR Macedonia: Lozano & Esma – Pred de za razdeni
Esma shows us some of the awrads she's won.  And we see her singing at a football match.  lozano prefers walking around some of the rugged countryside in his homeland.  Then they join for a nice alfresco cup of coffee. 
04. Azerbaijan: Farid Mammadov – Hold me
Farid likes his physical exercise, by showing us some casual back flips on the beach.  Then after catching up with friends, he goes to the mountains skiing. 
05. Finland: Krista Siegfrids – Marry me
Krista is in the snowfields of Finland riding a skidoo and knitting with friends.  Then she does a bit of singing before partying the night away.  
06. Malta: Gianluca – Tomorrow
We see Gianluca on one of the many ferries around Valetta.  He must be off to work as we next see him with his stethoscope at the hospital where he works.  With work out of the way, he then goes to the coast with some friends to enjoy the sunset.  
07. Bulgaria: Elitsa & Stoyan – Samo shampioni
Elitsa is putting on make-up and Stoyan making some more drumsticks.  After meeting up, they play drums with some school children before going for a walk in one of Sofia's parks.  
08. Iceland: Eyþór Ingi – Ég á líf
Dawn in Iceland sees Eyþór on a boat out for some fish.  Then he's at a kid's party wearing a crown, before off to a cafe for a bit of socialising with friends.  
09. Greece: Koza Mostra feat Agathonas Iakovidis – Alcohol is free
A sunny start to the day in Greece sees the band choosing some meat at a market.  They've also got a gig to perform to a packed house.  And what better way to end the day by having a barbecue on the beach.  
10. Israel: Moran Mazor – Rak bishvilo
Moran takes a nice walk around her country, taking in the quiet streets, the sea and finally meeting up with some friends by a harbour to see the day end.  
11. Armenia: The Dorians – Lonely planet
Yerevan is still snow-covered, and the band find themselves doing a photoshoot in a church.  Moving on, they head to a TV studio for a show where they sing.  
12. Hungary: ByeAlex – Kedvesem
This postcard shows ByeAlex finishing at the gym one morning before him walking around the picturesque parts on Budapest.  He goes to the TV studios to record to promotional material, then meets up with friends in a nearby cafe.  
13. Norway: Margeret Berger – I feed you my love
Margaret's day starts on the coast with a ride on a fishing vessel.  Next she's at an ice hockey match, cheering on her side.  Finally, she ends the day in the company of friends.  
14. Albania: Adrian Lulgjuraj & Bledar Sejko – Identitet
Adrian and Bledar are huge stars back home, and do their separate things (walking around Tirana, having a coffee and a smoke) before meeting up to do an evening gig  
15. Georgia: Sopho & Nodi – Waterfall
Our duo visit a concert hall and perform some traditional Georgian song.  Soon after, they're wandering through Tbilisi for coffee, and then end the day with a game of ten-pin bowling.
16. Switzerland: Takasa – You and me
We have snow and a trip around a chocolate factory.  The band all get to taste some and then make a large slab of chocolate and decorate it with a heart bearing a Swiss flag.  
17. Romania: Cezar – It's my life
Cezar likes to look good, so with a trip to the hairdressers, then a measuring up for a new suit, he then goes off out on the town on Bucharest.