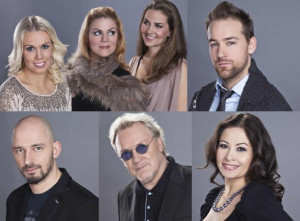 This Saturday will see the last of the three regulary heats in this year's Söngvakeppnin Sjónvarpsins, with the final on the 11th of February drawing closer. It's time for us to become better acquainted with the last bunch of hopefuls fighting for the last two tickets to the final.
1. Greta Salóme, Heiða and Guðrún Árný – Aldrei Sleppir Mér (Written by: Greta Salóme Stefánsdóttir)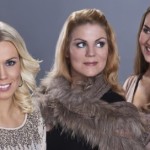 The first act to take to the stage with the hope of capturing enough votes to keep their Baku dream live is a powerhouse trio consisting of Greta Salóme Stefánsdóttir, Aðalheiður Ólafsdóttir and Guðrún rný Karlsdóttir. All three have competed earlier in the national finals, with Stefánsdóttir behind their entry Aldrei Sleppir Mér (Never Let Me Go). All three ladies have already taken part this year in the first two heats of the competition.

Greta Salóme Stefánsdóttir has already managed to secure herself a place in the final singing Mundu Eftir Mér together with Jónsi, giving a rousing performance two weeks ago. This is her first year at Söngvakeppni and what a debut! Stefánsdottir has been interested in music since early childhood, choosing to study the violin. She graduated from the University of Iceland with a bachelor's degree in violin in 2008. Currently working as a full time violinist with the Icelandic Symphony Orchestra, she still manages to squeeze numerous other musical projects into her schedule. She has been composing her own material for many years, winning a nationwide Christmas competition with the self penned Bethlehem. As if all this musical activity wasn't enough, she also keep herself in shape with crossfit in her spare time!

Aðalheiður Ólafsdóttir, otherwise known as Heiða first appeared as a singer back in 2005, participating in a TV talent show. The exposure gave her an appetite for more, and so she embarked upon a career as a singer in her native Iceland, appearing in both musicals and working as a backing singer. Ólafsdóttir has been seen on the Eurovision and Söngvakeppni stage on numerous occasions, most recently as a backing singer to Hera Björk in Oslo in 2010. Ólafsdóttir is a familiar voice to many, as she currently works for the radio station Rás 2.

Guðrún Árný Karlsdóttir began studying the piano aged just seven. She turned her hand to vocals, after winning a number of karaoke competitions during her teens. Her name has been seen in shows on broadway four years ago and Karlsdóttir has also released an album domestically since completing her studies entitled Eilíft Augnablik (Everlasting Moment), for which she composed and wrote the majority of the material. She has also appeared regularly as part of the Frostrósir ensemble, most recently last Christmas, 2011. The versatile singer has taken part in the national finals no fewer than three times previously,
in 2001, 2003 and 2006. Her most well known entry is Andvaka (Awake).
2. Herbert Guðmundsson – Eilíf ást (Written by: Herbert Guðmundsson og Svanur Herbertsson)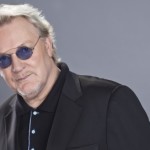 The second act to be thrust into the spotlight this Saturday is Herbert Guðmundsson, a name known by many Icelanders due to his work with many bands over the years, the most famous being Tilveru, Pelikan, Eik and Kan, together with which he has scored huge domestic hits such as Can't Walk Away, Hollywood, Svaraðu (Answer Me) and most recently Time. Recent years have seen a collaboration between the experienced artist and his son, Svanur Herbertsson which has proved to be very fruitful, with the release of two albums. Despite being musically very active in Iceland for decades, the is Guðmundsson's first outing to Söngvakeppni.
The young Svanur Herbertsson, 22 years old is keeping it in the family by working with his father on their entry, Eilif Ást (Eternal Love). He makes his living as a singer and a piano teacher. The first time he worked with his father was back in 2008, on his father's solo album, Spegill Sálarinnar (Mirror of the Soul), where he played piano as well as arranging the songs. This clearly gave him a taste for more, with the continuation of their collaboration under the name Herbertson, releasing an album Tree of Life last year. Svanus composed, arranged and sang on a number of the tracks. He won a music prize for best vocalist in 2010 as part of the duo Feeling Blue and works today with the band Swive, providing both vocals and keyboards.
3. Íris Lind Verudóttir – Aldrei Segja Aldrei (Written by: Pétur Arnar Kristinsson)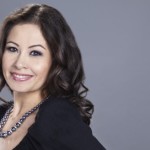 Íris Lind VerudóttirÍris Lind Verudóttir is the third artist attempting to capture one of those ilusive tickets to the final, with the song Aldrei Segja Aldrei (Never Say Never). She has an exotic family background, with an Icelandic mother and her father being of Filipino/Chinese extraction. Aged 35, Verudóttir has been muscially active for twenty years. She first discovered her passion for singing in 1993, when she began singing in a church choir aged 15. During her early years, she was a backing singer alingside Páll Rósinkranz in the Christ Gospel Band. Her firs solo ablum, also entitled Íris came out in 2005, since which she has released another album, Augun þín (Your Eyes) in 2010. Verudóttir is no stranger to the contest having provided backing vocals twice before, for both Friðrik Ómar and Sjonni Brink in 2006 and last year for Hanna Guðný Hitchon. This will however be the first time that the talented singer will take centre stage as an artist in her own right.
The composer behind Aldrei Segja Aldrei is Pétur Arnar Kristinsson and this is yet another family affair, as he is the half brother of Verudóttir. Interested in all aspects of design, he is currently studying for a masters degree in architecture, but music has been one of his greatest loves throughout his life. His grandmother taught him his first chords on the guitar and from then on he was hooked. Kristinsson has also performed with a number of choirs in his native Reykjavík. His first experience with the national finals came about when he submitted an entry at the beginning of the decade. According to the man himself, he did this purely to impress a girl! Kristinsson got to know his half sister in the summer last year and she was the natural choice to perform his entry. The entry suprisingly enough was originally conceived in french, Un Jour, Qui Sait, Jamais Dire Jamais!
4. Magni Ásgeirsson – Hugarró (Written by: Sveinn Rúnar Sigurðsson og Þórunn Erna Clausen)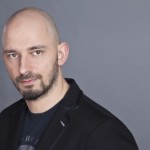 2012 sees the return of last year's runner up, Magni Ásgeirsson, and this will be his fourth attempt to win a national final, after coming so close and ending up in second place last year with Eg Trúi Á Betra íf (I Believe in a Better Life). Ásgeirsson most certainly is a jack of all trades, having tried his hand with fish processing, baking, contruction and project management. It's music though that has always been most important to him. His first band was formed while he was 12. In high school he formed the band Shape which enjoyed success, but it was 1999 that he really hit the big time with his band Á Móti Sól. The talented rocker also received major exposure stateside during his appearance in a rock competition with a reality type
format called Rock Star Supernova, coming in fourth. He has released one album to date, his self-titled solo album, released in 2007.
The team behind his song Hugarró (Peace of Mind) is none other than Sveinn Rúnar Sigurðsson and Þórunn Erna Clausen, both of which we've gotten to know a little better previously through their entries Leyndarmál and Stund með Þér. With this being their third entry, it must be something of a participation record at Söngvakeppni Sjónvarpsins.
5. Svenni Þór – Augun þín (Written by: Hilmar Hlíðberg Gunnarsson og Þorsteinn Eggertsson)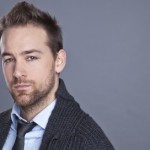 This year's final entry is entitled Augun Þín (Your Eyes) and is to be performed by young rocker Sigursveinn ór Árnason, otherwise known as Svenni Þór. His interest in music began at an early age, but initially it was dance that interested him the most. He first tried his hand at singing after being cast in a school production of the Rock Horror Show, as well as Grease the following year. His performances led to him becoming vocalist in the band Byltingu and since then he hasn't looked back. Since moving from his native kureyri in the north, Árnason has since studied music and has appeared in many concerts, the most recent projects being tributes to Freddie Mercury, Deep Purple and Gary Moore. He currently sings with two bands,
one of which, Goðsögn, will perform with him on Saturday evening.

Hilmar Hlíðberg Gunnarsson is the man behind the final entry and it was apparently his girlfriend who inspired him to write the song. He lists ABBA's Waterloo as his all time favourite Eurovision entry. Gunnarsson beagn playing the guitar early on, messing around with his mates. Practice makes perfect, and by 1977 he had already released his debut solo album, Sunshine and showers. He has composed a huge amount of material since then, but none of it has been released. Although he has never taken part in the national finals previously, Gunnarsson is very familiar with them. His music has also been peformed in a number of smaller music contests previously. Þorsteinn Eggertsson collaborated with him on this entry, writing
the text to Gunnarsson's melody.
EuroVisionary would like to thank Kristján Sveinsson for helping us with this article.