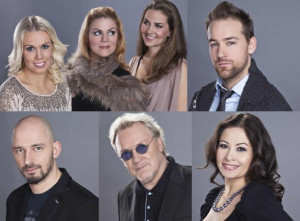 The remaining 5 songs yet to be heard in this year's Icelandic national selection have today been published by the broadcaster. On Saturday they will compete for the last two spots available in their final that will be held on the 11th of February. 
The five songs for Saturday's third heat are:
1. Greta Salóme, Heiða og Guðrún Árný – Aldrei sleppir mér (Written by: Greta Salóme Stefánsdóttir)
2. Herbert Guðmundsson – Eilíf ást (Written by: Herbert Guðmundsson og Svanur Herbertsson)
3. Íris Lind Verudóttir – Aldrei segja aldrei (Written by: Pétur Arnar Kristinsson)
4. Magni Ásgeirsson – Hugarró (Written by: Sveinn Rúnar Sigurðsson og Þórunn Erna Clausen)
5. Svenni Þór – Augun þín (Written by: Hilmar Hlíðberg Gunnarsson og Þorsteinn Eggertsson)
From first heat qualified the band Blár Ópal and the Icelandic 2004 Eurovision Song Contest participant Jónsi & Greta Salóme Stefánsdóttir. The latter is trying again this week as one third of the female trio singing song nr. 1.
From second heat it was Regína Ósk Óskarsdóttir, one half of Euroband, who represented Iceland at the Eurovision Song Contest in 2008 with the song This Is My Life who got one of the tickets for the final. The other one went to Simbi & Hrútspungarnir.
You can hear the five songs competiting on Saturday on the broadcaster's website.