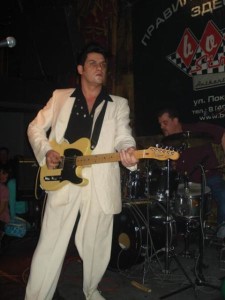 Belgian broadcaster RTBF, has announced that Patrick Ouchéne will be representing the country in the Eurovision Song Contest in Moscow this year. Ouchéne will be singing Copycat on the stage in Elvis Presly mode. The song will be revealed on 10th March, but a teaser for the song is available at Youtube. 
Forty three year old Patrick Ouchéne has been selected from the band Runnin' Wild, which is popular around Belgium. Patrick Ouchéne is known to be a performer in the style of Elvis Presley.
Ouchéne will be representing Belgium at the Eurovision Song Contest with the song Copycat in Moscow. The song is written by Jacques Duvall, who has written Le Banana Spirit which has sold out more than 2 millions. Ouchénes group, Runnin' Wild, also worked with Duvall in the album I Dressed In Black Today which was released last year.
Belgium will participate in the first semifinal of the Eurovision Song Contest on 12th March this year.
Belgian broadcaster RTBF also announced that Patrick Ouchéne will be revealing his song at a press conferance on 10th March. The broadcaster shares a very short taster video with the fans online via the internet. You can watch it below.