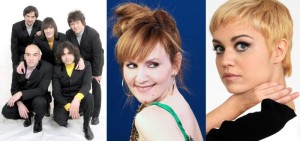 Tomorrow the Serbian national final will take place where three candidates will battle to fly the Serbian flag in Düsseldorf. They are Aleksandra Kovac, Nina and the group The Breeze who will perform the three songs composed by the Kovac Family especially for the occasion.
Pesma Za Evropu is the name chosen for this show where we will listen to the three songs composed by Kornelije, Kristina and Aleksandra Kovac (who also will be defending her own song) for the first time. All three candidates already have prominent professional careers and they are well known to the Serbian audience. Now, it is time to know more about them.
Aleksandra Kovac:
She is a singer, songwriter, arranger and producer. She was, together with her sister Kristina, a part of the girl group K2, who were the backing vocalists of Bebi Dol at the Eurovision Song Contest in 1991. In 2006 she launched her first solo album called Med I Mleko wich led her to get the MTV Europe Music Award. Nowadays she has her own singing school where she works with young talents. She will be defending her own song named Idemo dalje.

Nina:
Danica Radojicic, also known as Nina, is an awarded composer. She has competed in some national and international music contests and, one year ago, she formed a band called Legal Sex Department. She will perform the song Caroban, composed by Kristina Kovac.
The Breeze:
They have been working together since 2006 when they called themselves "The Bestbeat" as a tribute to the English band "The Beatles". The band consists of Aleksandar Erakovic (guitar and bass), Radovan Spasojevic (guitar and vocals), Marko Calic (bass and vocals), Damjan Dasic (drums and vocals) and Nikola Dunderovic (guitar and vocals). They will try to get the ticket to Düsseldorf performing the song Ring Ring Ring composed by Kornelije Kovac.
Beside the three participating entries that the Serbian audience will chose and who will be the Serbian representative in the 2011 Eurovision Song Contest, we will enjoy some special guests like the singers Nina Badric, Dado Topic (Croatia 2007), Aleksandra Radovic, Jelena Tomasevic (Serbia 2008), Karolina Goceva (FYR Macedonia 2002 and 2007) and the actors Milan Kalinic, Nikola Bulatovic, Mina Lazarevic and Sergej Trifunovic. They will be singing some Kovac's Family hits.
Viewers will be able to watch the show next Saturday at 21:00 CET via the RTS website or through the eurovision.tv stream.