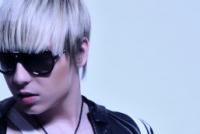 Milan Stankovic gave an upbeat and confident performance of Ove Je Balkan in Serbia`s 2nd rehearsal. His voice was very strong with this uptempo and ethnic song.
As the song opened there were 5 silhouettes behind screens.  Then Milan jumps to the stage. Milan was wearing blue, as were his 2 male dancers.  2 girls were dressed in white like ballerinas as they elegantly moved like musical dolls.
Milan stayed centre stage and gave a solid vocal performance.  The girls jumped forward to dance with the guys.
This ethnic, uptempo song is proving very popular.  This really is the Balkans reaching out to Europe.