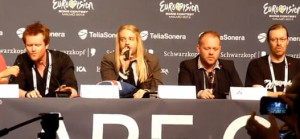 After the first round of press conferences yesterday, it was the turn of the acts appearing in the second semi-final to move into the spotlight and answer questions from media and fans.
After their rehearsal, the Latvians were first to enter the press room. The members of PeR acclaimed the organisers. They are fans of the contest and are unhappy at the number of countries entering what they see as typical Eurovision songs.
One of the more highly thought of countries was next, San Marino. Predictably, composer Ralph Siegel almost took the attention away from Valentina. He was asked why he keeps returning to the contest. "It is very simple actually. If you were a painter, you would like your work to be seen by as many people as possible. It's the same with me. I'm a composer. So why not using the opportunity to write a song that will not only be heard and seen in one country, but in the whole of Europe instead. That's the reason"
The two Macedonian singers compared their number of years in the business. Esma said "I began my career when I was 10 years old, and I wrote my first song at the age of nine. Thousands and thousands of concerts I have had all over the continents. I have raised 48 children – 47 are male, and one is female, Eleonora, who is here with me as a backing singer." Lorenzo's experience is different, "I have only five years of career. I started at a talent show, and after that I have been on many international contests, like Slavianski Bazar in Belarus and Sea Songs in Ukraine. Now I'm finally here at Eurovision, and I hope you like our song."
Possibly in an effort to win over the locals, Azerbaijan's Farid arrived at the conference with both the Azeri and Swedish flag. His comments continued the charm offensive, "I like almost everything here. People are more quiet than in Baku but still very nice. I like the arena and the stage preparation as well."
Finland's Krista revealed that she has received a few marriage proposals since winning the Finnish final with 'Marry Me', but one has not yet been forthcoming from her boyfriend!
It's very much a family affair for Malta's Gianluca. One of his sisters is also his vocal coach and all of his six siblings will be in Malmo to cheer him along.
At the Bulgarian conference, Elitsa explained why she is barefoot on stage, "I love to be in contact with the earth. I have been to many places in the world, and when I touch the ground with bare feet, I can feel the spirit of the soil." Stoyan talked about the duo's musical style, "We both studied percussion, and Elitsa is a professional vocalist too. We always use many many percussion instruments and drums, and also sometimes a traditional Bulgarian juice harp. This is our style."
Eyþór Ingi for Iceland is very happy with how things have gone so far, but doesn't see the contest as a completion, "I don't see it that way. For me it's just a moment, when we all get together." He's very dedicated to his children, "The song that I'm singing is my message to my wife and my children, but everyone can find someone they love, someone who gives them a reason to live" He ended the conference with an acoustic version of his song."
The Armenians believe things are getting better, "We were 60% satisfied with our first rehearsal, and now we are 99 % satisfied with the second one." They sing in English because "Rock music sounds better in English and it came from English-speaking countries."
ByeAlex solved the mystery of his unusual name. "I used to use Pa as a greeting, it means 'hi' as well as 'bye' in English, it was really annoying to my friends. I wanted to use a more international version as my name, that's why I chose ByeAlex." He isn't going to sing in English because "I think the Hungarian version sounds more poetic, that's why I decided not to sing an English version in the Eurovision Song Contest."
Sweden's closet neighbours were next and there is quite a rivalry between Sweden and Norway. That said, Margaret Berger is not really a competitive person, "I approach everything that I am going to do my best, and I don't think about the competition, but of course I would like to win, but it is much better to think about having fun." She said that everything is at 95% at the moment, but the 5% will be there when the arena is full of people.
The Albanians were happy with their second rehearsal describing it as "perfect". Talking about the story of the lyrics, Eda Sejko explained, "Lyrics are about freedom, brotherhood, identity. We are small country, but we want to be part of big European family. That's what I was thinking about, while writing those lyrics. So, the message is exactly as your slogan says – We are one".
Were the Georgians happy with their rehearsal? "The rehearsal was amazing, beautiful, great, we are so happy now. Everything was perfect." said Nodi. Sophie got her tuppence in, saying, "The only thing we can do is to sing with the whole of our hearts." The Head of Delegation is in confident mood, "Winning the Eurovision Song Contest is of course a great promotion for our country, so we'd be glad to win it and be able to host it in Tbilisi next year".
Swiss band, Takasa, was forced to change their name after winning the Swiss final. How did they become Takasa? "We got so many proposals – at least 200. I even have some letters at home, handwritten ones. Everybody wanted to bring in their idea. We first had to decide if we wanted to be positive or negative, and we decided for something positive – we didn't want to be something like the Band without a Brand. So we decided for Swahili, Takasa sounds like Hakuna Matata." The oldest performer ever to appear on the Eurovision stage will be Emil Ramsauer, who plays the double bass and will be 95 years old when he takes to the stage. He was asked about his long life. "I never thought I would get old like that, and I never thought I would come here. I'm not nervous. Just live a moderate life. Don't work too hard. I go to bed at half past nine."
The last conference of the day was help by the Romanians. Cezar was adorned in the Romanian flag when he entered the room. He was asked about the challenge he faces as an opera singer in the Eurovision Song Contest. His reply was "It is unusual for a counter-tenor to be used in a song like this so it is a definite challenge"
Tomorrow sees the Big 5 and Sweden take top the stage.