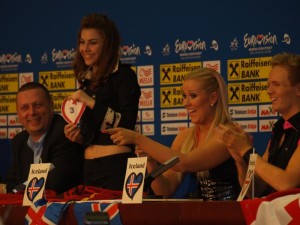 After the second Semi-Final there was a press conference for all the artists that had gone through to the final. All delegations answered to two questions each and then draw their running order for Saturday's final.
The Ukrainian artist Ani Lorak of course was asked a question about the similarities between her entry and the Swedish one. Ani Lorak doesn't think there are that many similarities between them, besides the colour of the flags. She points out that they are very different and that there is a lot of hard work behind their numbers on stage.
The Albanian singer Olta Boka was very moved about being in the finale and told us that of course will do her very best in the final.
For the Icelandic artists it was a dream come true and they say they are pleasantly surprised about qualifying for to the final.
The Georgian artist Diana Gurtskaya was asked what gives her strength and she answered that it is God and all the feedback from the audience. She also says she is going to do her very best in the final.
Denmark's Simon Mathew thanks all his fans for the support and says that it is the best experience ever to take part in the Eurovision Song Contest.
Swedish entrant Charlotte Perrelli was next and told us that they are very happy and that they didn't have any expectations about going through to the final. She answered a question about which of the nordic entries will be the biggest threat in the final. She said they all are so different and that it's very hard to say. Head of the Swedish delegation, Christer Bjorkman adds that he's glad that all the nordic countries are in the final, it's a long time since that happend.
The pirates from Latvia were next, they've sailed to Belgrade and on their way they've visited several countries. First they visited Charlotte in Sweden, senhora do mar in Portugal etc.
The Turkish singer from the band Mor ver Ötesi, Harun Tekin, answered a question about the criticism they've met in their country because of the fact they are singing in their own language and competing with a rock song. He says that the band played together for a long time and always have sung in the Turkish language. He finishes by telling us to send a thought to those who are not as fortunate as they were last night.
Finally Portugal's Vaina Fernandes thanks all the fans that believed in her and adds that it was really nervewrecking to wait for the result. The Lyrics writer Carlos Coelho told us that they would have needed a cardiologist. Vaina also got the question if Portugal is ready to host Eurovision Song Contest next year. Carlos Coelho answered that it shouldn't be a problem.
EuroVisionary would like to thank Viktoria Karlsson for this article.