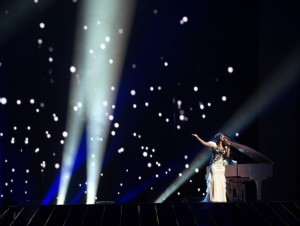 At 21.00 it was time for the second dress rehearsal of the first semi final. It was another opportunity for the artists to tweak their performances and the organizers to get all the technical bits into place. Here are some reflections from this rehearsal.
Note: The opinion expressed in this article are those of the author and are not necessarily the one of EuroVisionary.com. 
1.Poland – Magdalena Tul – Jestem
Magdalena delivers a solid number of a plesant song but is the song and number really enough? I saw this as a qualifier before the rehearsals started but I'm not sure anymore. I think it will be a bit forgotten.
2.Norway – Stella Mwangi – Haba haba
This felt like a sure finalist the first time I saw it. I think the song is instant but it also a song I grew quickly tired of. Are the viewers gonna find it as instant as I did the first time? In that case it's a qualifier, but like with Poland I am not as sure as I was before I came to Düsseldorf that I will se it qualify. Judging my first impression of the song, I still think this should make it through to Saturday.
3.Albania – Aurela Gace – Feel the passion
Aurela possesses a strong voice. She also wears more make-up than most women and that in combination with the red hair gives a quite scary look I think. I never believed that this is a qualifier and I still don't think it is.
4.Armenia – Emmy – Boom boom
Emmys voice is not very good during the performance and the song is rather childish. Armenia has never failed to qualify but with this rather weak song & seeing that they are in a semi final where they are missing many of the countries they usually can count to get votes from I think that they just might miss out the final this time or be a borderline qualifier. 
5.Turkey – Yüksek Sadakat – Live it up
Turkey and rock songs has always been a successfull combination and this is no exception I feel. Will reached the final and probably give Turkey another top 8 place there. 
6.Serbia – Nina – Caroban
Quite a lot of people has written this down as a qualifier but I am not sure if it really will make it. Borderline qualifier if so but my guess is that this will miss it out the final.
7.Russia – Alexej Vorobiev – Get you
A good performance and quite a big show on stage from Alexej and his dancers will easily take Russia to the final.

8.Switzerland – Anna Rossinelli – In love for a while
This is my personal favourite of the whole contest. I am not sure at all though if Anna's charisma is strong enough to attract votes from all over Europe though.
9.Georgia – Eldrine – One more day
Georgia has a nice record of qualifying and looking at which countries that are voting in the semi final I think it could be enough to take them to another final once again.

10.Finland – Paradise Oskar – Da da dam
A charming little song that give strong Tom Dice-vibes ("Me and my guitar") from last year). If Tom could win his semi final I see no reason for Paradise Oskar to repeat or come close to Toms achievment
11.Malta – Glen Vella – One life
Glen does what he can to lift the song with his energy but like people in common I don't think this stands a chance to qualify. It's more a hot candidate for a bottom 3 place I think.
  
12.San Marino – Senit – Stand by
The lovely Senit does a professional job with delivering the song but the song itself can probably only be saved from a last place if the jurygroups around Europe goes voting for it.
13.Croatia – Daria Kinzer – Celebrate
A song that tries to be catchy but comes across as rather cheap And the also rather cheap cloth changes won't help it to qualify I think.
14.Iceland – Sjonni's Friends – Coming home
I must admit I am not left untouched knowing that this song is sung by the friends to the late Sjonni. I have a feeling that this will make it through to the final, even if I am not sure if eastern europe would vote for a song like this, but I have a feelling that this is a dark horse.
15.Hungary – Kati Wolf – What about my dreams?
This song has divided people into two groups – one who think it can win the whole contest and one that think it will flop. I would like to say that I do believe it will make it to the final but I am not sure if it will do top 10 there.

16.Portugal – Homens da Luta – A luta e alegria
As crazy and entertaining this bunch of people who perform their song is, I think they don't stand a chance of qualifying. The lyrics are important in such a song andthe  message of the song will get lost due to singing in a language that most europeans won't understand. But I am quite sure it won't be last.
17.Lithuania – Evelina Sasenko – C'est ma vie
Some people think this might be a surprise and be in the final. I find it only totally uninteresting and can only see this come close to the bottom 3.
18.Azerbaijan – Ell & Nikki – Running scared
This seems to be the one to beat in this semi final and I don't want to bet against that really. But this is also not my kind of song really and they don't come across as a believable couple though I must say. But the feeling is indeed that this will do well.
19.Greece – Loucas Giorkas ft. Stereo Mike – Watch my dance
Greece never missed a final and even if some people believe in that it in fact could miss the final this time I think Greece is pretty safe to go to the final this year again.
This is my prediction of the semi final:
1.Azerbaijan
2.Finland
3.Russia
4.Norway
5.Greece
6.Turkey
7.Hungary
8.Iceland
9.Georgia
10.Armenia
11.Poland 
12.Serbia
13.Switzerland
14.Albania
15.Croatia
16.Portugal
17.Lithuania
18.Malta
19.San Marino