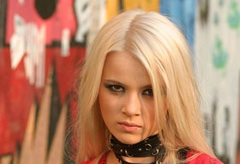 Voting fraud led to a second final being announced in Ukraine with three participants. Yesterday one of those participants withdrew her song and today the broadcaster cancelled the second final. A re-count of the votes means that Mika, the winner of the first final, will represent Ukraine at the 2011 Eurovision Song Contest.
The re-count of the SMS votes has been done with allowing 20 votes per phone number. The result of that shows that Mika Newton, who won the original national final Saturday the 26th of February, won again with 31,54%. With 29,42% Zlata Ognevich came second and Jamala third with 16,47%. This matches quite badly with Jamala who, in her withdrawal statement from yesterday, said: Voting results are well known to everyone. I'm happy that 3 times more people voted for me than for the artist, who won the first place.
As things stands right now it will however be Mika Newton, who will represent Ukraine at the Eurovision Song Contest in May, although it hasn't yet been announced if she will be singing the original song Angel or if another song will be chosen.