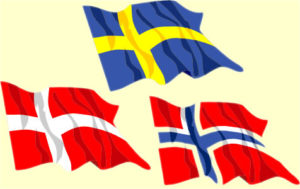 The Eurovision Song Contest final became the most seen program in the Scandinavian viewing figures despite a drop in the amount of viewers in both Denmark and Sweden. In Norway however three times as many watched the contest compared to last year where the country was not in the final.
In Denmark the final was seen by 965,000 people making it the most seen program however it is quite a drop compared to 2006, Denmark's last participation in a Eurovision Song Contest final, where more than 1,7 million watched the final. Saturday the 24th of May was however also the time for a royal wedding in Denmark and with that in mind the Danes aren't really complaining. There were more people watching the final than the royal wedding, but among the nearly half a million viewers who watched the wedding many of them would probably have tuned in on the final had it not been on the same day.
In Sweden the viewing figures dropped down as well although it was not in collision with any other major events like in Denmark. Two years ago SVT managed to get 3,3 million people watching the final and last year it was 3,4 million. This year however "only" 2,8 million watched the final where former Eurovision Song Contest winner Charlotte Perrelli finished 18th for Sweden. With a former winner representing them and being among the bookmaker's favourites the drop in viewers in Sweden is quite a surprise.
In Norway things look totally different and NRK can celebrate that they with more than 1,5 million viewers have had the biggest success for any TV program since 1996 where the Eurovision Song Contest was held in Norway and watched by 2 million Norwegian viewers. Compared to last year where Norway didn't manage to qualify for the final the amount of viewers is nearly tripled with only 573,000 watching last year.