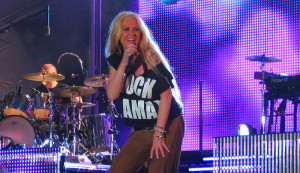 Denmark's rock mama number one, Sanne Salomonsen, is back with a new album titled Tiden Brænder. The album contains 13 songs all in Danish and will be the first in this decade, that is Sanne's fifth as one of the country's most popular singers. 
Sanne Salomonsen took part in the Swedish selection in 2005 with the song Higher Ground, that came 7th in the final. In the years before Sanne had several times refused participating in Dansk Melodi Grand Prix and as such the Danish fans reacted a bit mixed about her Swedish attempt.
She has however remained as one of the most popular female singers in the country since the early 70's and is often refered to by the nickname "Denmark's rock-mama". When she in a few days release her latest album titled Tiden Brænder she will have been releasing new albums in 5 decades. 
In 2005 Sanne Salomonsen was hit by a stroke in the brain, which caused her to be paralyzed in one arm and in half her face. She cancelled all arrangements for a longer periode of time, but in 2009 she was back with the album Unicorn. That album reached platinum and became the 4th best selling album in Denmark that year.
Tiden Brænder will hit the stores on Monday the 14th of November 2011 and contains the following songs:
1. Dæmoner (Daemons)
2. Tiden Brænder (Time is burning)
3. Over Det (Over that)
4. Små Soldater (Small soldiers)
5. Minder (Memories)
6. Hjem (Home)
7. Søvngænger (Sleepwalker)
8. Rock'n'Roll
9. Ingenmandsland (No ones land)
10. Emily
11. Drømmenes By (The city of dreams)
12. Hvis Du Tør (If you dare)
13. Lissabon (Lisbon)