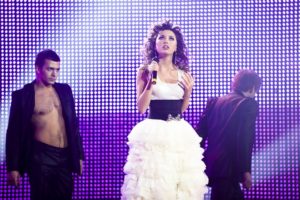 Last weekend Safura, the artist representing Azerbaijan in this year's Eurovision Song Contest, worked hard to shoot the video of her song Drip Drop. For the 17-year old it was her very first music video shooting. Nothing special except the fact she nearly drowned.
Safura has got a lot of talents and interests. She won the Pop Idol competition in Azerbaijan, plays the saxophone, is a fashion designer and loves to read. The only thing she is afraid of, is water.
But for her very first music video she had to spend almost eight hours in the water. Safura works together with Beyoncé's choreographer JaQuel Knight who is responsible for the performance in Oslo and the music video. He wanted a variety of scenes taken in a swimming pool. Everything went smooth until a certain moment where Safura, with poor swimming skills, nearly drowned.
Luckily her team was standby to rescue her. Afterwards Safura admitted it was a scary experience.
Below you can see the adventures of Safura.