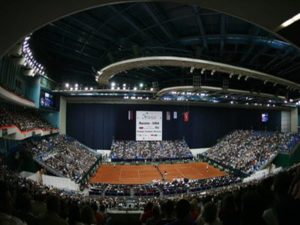 The Russian TV station Channel One has proposed to the EBU that the 2009 Eurovision Song Contest is to be held in Moscow. EBU's reference group will still have to decide, but at the moment it looks like we will all be going to Moscow.
As soon as it was clear that Dima Bilan had won the newly held 2008 Eurovision Song Contest the speculations started. Would it be Saint Petersburg or Moscow to host the 2009 edition? The Russians themselves preferred the capital Moscow although in particular many westerners would have voted for the more Western styled and not nearly as expensive Saint Petersburg.
The Russian host has now found a proper location, the Olimpiisky indoor arena in Moscow, a venue built for the 1980 Olympics that can host between 10,000 and 18,000 people. This arena has officially been proposed as the one to host the 2009 Eurovision Song Contest and it is now up to the Reference Group to evaluate this suggestion. That will happen later this summer and in a couple of months it should be clear if indeed we will be going to Moscow next year. The arena itself is so large that it can have up to 80,000 people in the whole complex making it possible that it can host the traditional press centre as well. Should that be the case there will be no need for shuttle busses between the arena and the press centre.