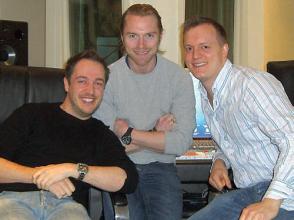 Ronan Keating's entry for the 2009 Danish Eurovision Song Contest preselection, Believe Again, was written over a week in Dublin with the two Danes Lars Halvor Jensen and Martin M Larsson.
The co-writers of the song, to be sung at Dansk Melodi Grand Prix by Niels Brinck, told the Irish Independent that the former Eurovision host ferried the from their hotel to his house in Malahide everyday and treated them to a curry and then a few pints in his local pub.
The duo described the entry as a "typical Ronan song" adding that "it's a positive uptempo pop song that makes you want to sing along".
Martin, Lars and Ronan also wrote two other songs at the same time as Believe Again, neither of which have been released.
The pair described Ronan as as a "super cool, extremely sympathetic and down-to-earth guy". Lars said "He is one of the most pleasant people I have met in the music business and he seems really genuine. He didn't care if we were Bono or just Martin and Lars from Denmark".
The Danish final will be held in Herning on the 31st of January 2009.