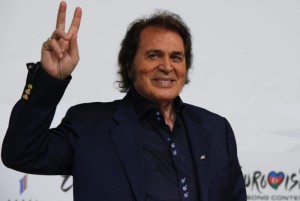 Today was the final day of delegation rehearsals and press conferences before the focus moves on to the shows themselves and included the opportunity to meet some of the 'Big 6' for the first time..
For some singers, performing at the Eurovision Song Contest is a very important moment in their career. For Ott Lepland from Estonia, this is definitely the case. "I would like to believe it's the next step in my career. I have released two albums in Estonia. I haven't performed for such a big audience before. It's been a very good experience even if Estonia doesn't qualify for the final." Ott's backing singer, Marvi, was absent from the stage today because of illness. "The reason is that Marvi wasn't feeling very good this morning, she is resting and sleeping at the hotel. She will definitely be OK by the time of the performance in the Semi-Final."
A popular question since the free language rule was introduced is about singing in English instead of the native language. Representing Slovakia, rocker Max Jason Mai was asked about singing in Slovak. "Probably it would sound a little weird." To prove his point, he sung the Slovak words and said, "You see, it doesn't really rhyme, and it sounds different." Max is happier when he and his band can play live rather than to a backing track. "We don't like playbacks or even half playbacks, we are real musicians. That's also why we haven't made promo performances all over Europe before the Eurovision Song Contest, as everywhere they wanted us to do full playback, and that's just very difficult for metalcore music. We want to play live."
Of the rehearsal for the Norwegian entry, Tooji said "It went really well and we just had fun up there." Stay is an up-tempo, modern pop song. However, at the press conference, he performed a slow, acoustic version of the song.
Maya Sar from Bosnia-Herzegovina was asked how her song, Korake Ti Znam, came to be chosen for the contest. "Everybody asks how I decided to present this song. It's something that came from my heart, and I like to do things in life generally which are true to me." She was also asked about the video for the song. "Privately I like the video very much, the director is a winner of many prizes. It was recorded in Bosnia & Herzegovina."
At the Lithuanian conference, Donny Montell was asked about his appearance in the television show, Dancing With the Stars. Not lacking in confidence, he said, "I was the star!" The confidence didn't wain when he was asked what his favourite song ion the competition is. "My favourite song is 'Love Is Blind'. I also like the song 'Love' of the Lithuanian representative in the 2009 Eurovision Song Contest, Sasha Song."
With international star, Engelbert Humperdinck singing for the United Kingdom, his press conference was naturally very well attended. However, it seems that not everyone knows who he is. One journalist admitted that she had never heard of him. "That's alright, I've only sold 150 million records worldwide." was his reply and he kept referring to this admission throughout his conference, much to the amusement of those attending. Love Will Set You Free went to number one in the Amazon download chart, something which gives him positive hopes for Saturday. Despite all he has achieved in his long career, he still considers it an honour to be representing his country.
Italy's Nina Zilli changed her song for the contest. She was in the Sanremo festival with Per Sempre, and it was announced that she would sing that song in Baku. However, it was later changed to L'Amore è Femmina. "In Sanremo I went with Per Sempre, I listen to the team that I work with, they know all of the songs. Here I decided to come with the title track of my new album, it's more representative of my new album. It wasn't an easy decision because I love them both, but I felt that this song was better for Baku!" Why is part of the song in English? "I decided to sing in English, I like people to understand what I'm saying. If I sing totally in Italian, a lot of people wouldn't be able to keep up with the lyrics, and that's important for me that they can."
The host country is represented by Sabina Babayeva. She was asked how it felt to be on the stage in Baku. "Well as you saw, it was just great for me. Today I tried to share my emotions with the audience".
Spanish singer, Pastora Soler, is better known for singing in Flamenco rather than big ballads of the type she has brought to Baku. She said this is because Flamenco is more difficult for a European audience to relate to. She said she is proud to be representing Spain but is feeling the pressure.
France and Germany didn't have press conferences today.
Tomorrow sees the first dress rehearsals for the first semi-final.