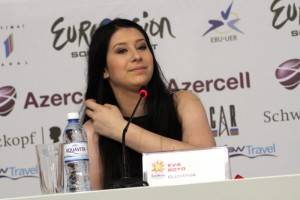 A week today, we will know who the winner of the 57th Eurovision Song Contest is. To get to that point, the rehearsals and press conferences continued apace today.
The youngest contestant this year, Slovenia's Eva Boto, was first out of bed to get to the Crystal Hall on time. At her first conference, she expressed her view that singing in her native Slovenian was the best choice for her. Today, she went a bit further, saying "I love the Slovene language and English, I think at this competition it's best to represent your country and its culture. I think that every country should sing in its own language. You get to experience a lot of other languages that way. We did record an English and Serbian language version of the song." Her tender age holds no fear for her for next Thursday or the final, if she gets that far. "It's an amazing feeling, I'm only 16, and I have this big stage in front of such a big audience. It's cool because everyone is talking about the fact I'm only 16 and so relaxed. It's the biggest opportunity for my career to showcase myself to the world."
The head of the Croatian delegation said that things hadn't gone well today. "The first rehearsal was better. We want to get more atmospheres on the screens, and I would like people to see more of the choreography. People should see how the drama is rising, and how the sea is calm then in the end." The countries of the former Yugoslav republics are renowned for their excellent ballads. Nina explained this by saying, "We are very emotional people. We like good lyrics and slow ballad. We like songs that reveal our dreams about great love."
Fan favourite Loreen from Sweden was next into the conference room and the Swedes said they were happy with the rehearsal and pleased that all the changes they had requested from the first rehearsal had happened.
Anri Jokhadze from Georgia is starting to feel the pace. "I'm tired. I'm not used to get up so early."  He was asked to describe his stage outfits and he said that the red used is to express loneliness.
Turkish representative, Can Bonomo, uses a lot of nautical themes in his song, Love Me Back. "I am a sailor actually, I used to sail around 12 years ago. If I had chance I would love to sail in America, as I've never seen the ocean before." He was also asked about his tattoos. "We would need three hours to talk about all of my tattoos! The one on my hand is an ancient symbol for musicians. Chris Martin of Coldplay has a tattoo on his hand too so I'm not the first!"
The first of the automatic qualifiers for the final, Germany, had their first rehearsal toady. Singer, Roman Lobb, was asked why he has chosen to sing rather than play an instrument on stage. "It's a little difficult for me to play the piano or the drums in the song. I want to concentrate just on my voice." He was asked if his new album will have an international release. "There are fast songs, chilled songs, ballads on my album. It would be great to have support to have it released all over Europe"
French singer Anggun seemed to have low expectations of her first rehearsal, commenting, "The first rehearsal is always a bit tricky. So far we have been rehearsing in front of the mirror, so it was very different today on stage. For us it is a bit frustrating that everyone witnesses that, as its still work in progress, and we are not yet satisfied with it. But we hope it will be fine by next week." What is the inspiration behind the words of Echo? "We don't have time. We have the feeling that the world is small, but this is just the virtual world. We are lacking the essence of the human life."
Because of the official reception, the delegations from Italy, Azerbaijan, Spain and United Kingdom didn't have the opportunity to hold press conferences today, but will do so tomorrow.